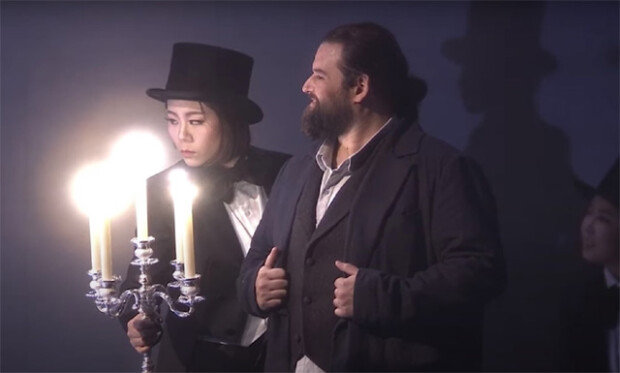 German Romantic author Ernst Theodor Amadeus Hoffmann (1776~1822) was an inspiration for many artists. His novel "The Nutcracker and the Mouse King" gave birth to Tchaikovsky's "The Nutcracker" and another novel "The Sandman" inspired Leo Delibes' Coppelia.
Like other novels in the Romantic era, Hoffmann wrote fairy tales featuring elves, devils, manlike animals. Germans, however, were proud of the literature works of that time. Some 50 years later, poet Heinrich Heine said that Germany dominates the world in the world of dream while describing the division of Germany and the popularity of Romantic authors.
"The Tales of Hoffmann (1881)" by Jacques Offenbach is based on the three stories from Hoffmann's short novel. While the male protagonist of the story is Hoffmann himself, there are three different female protagonists in each chapter. In the first chapter, the male protagonist falls in love with Olympia, not knowing it is a mechanical doll. In the second chapter, he falls for Antonia, who is dying from a defect in her lungs. In the last chapter, Hoffmann falls in love with a bad girl, Giulietta, who steals men's shadow.
These stories might have similarities with love in the era of pandemic. Avoiding direct contact with others and only seeing ideal people on the social media might make you fall in love with a fictional existence like Olympia. Such story was depicted in the movie "Her" in 2013. What about the female protagonist in the second chapter who has a respiratory disease? The deceptive love for one's own interest in the third chapter is more dangerous in the era that relationships and women are often considered superficial.
People often make a joke by saying, "Where is a Hoff bar (Konglish word for a bar) in The Tales of Hoffman?" The background of the prologue and the epilogue of this opera is a bar in Nuremberg.
The National Opera of Korea has been featuring the "Stay-at-home! Opera Challenge" program, one opera performance per week, since last Monday. "The Tales of Hoffmann," which the NOK performed last year, will be performed through Sunday.. Tenor Jean-François Borras plays Hoffmann and soprano Cristina Pasaroiu plays one of the three female protagonists. Type "National Opera of Korea" on YouTube to see the video.
gustav@donga.com