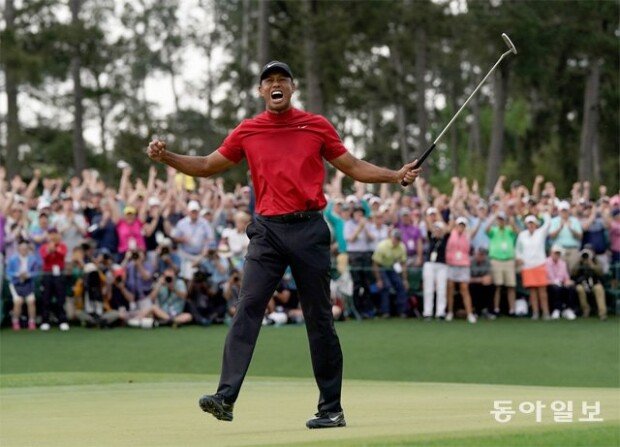 Star golf player Tiger Woods won his first Masters as the youngest winner in 1997 at the age of 21 years and three months. It was also at the Masters where Woods heralded his comeback last year with his first major championship win in 11 years.
Tiger Woods had a dream of wearing a green jacket – the symbolic jacket awarded to the winner of the Masters Tournament – at the Augusta National Golf Club with pink royal azalea in full bloom in April this year. The 2020 Masters, however, have been postponed to November due to the outbreak of COVID-19. Woods would have been playing in the field wearing his symbolic red shirt on Monday, which was the last day of the tournament according to the original schedule.
The 44-year-old golfer discussed his past, present, and future in relation to the Masters during a video interview with American broadcasting company CBS at his home in Jupiter, Florida on Sunday. He showed up with a long beard, perhaps due to the absence of the tournament.
Woods is still training to keep his skills sharp despite the suspension of the PGA tour, such as conditioning with cycling as well as field training. The Medalist Golf Club near his home is still open although many golf courses are closed due to COVID-19. "Obviously we have our social distancing – we can't touch rakes or touch the flags, one person per cart," he explained.
He plays puzzles at home after training with his partner Erica Herman, daughter Sam, and son Charlie. "They have just finished a 2,000-piece puzzle, and now there's a 3,000-piece puzzle!" said Woods, who is partially color blind. "I find myself asking is this right, is that right? They get sick and tired of me asking. They end up shooing me away from the puzzle."
Woods is determined to defend his title at the Masters to be held in November. He said he felt energetic despite the postponement of the Masters. "I get to keep the green jacket longer, but this is not how I wanted. I want to defend the green jacket through competition in the field."
Yun-Cheol Jeong trigger@donga.com