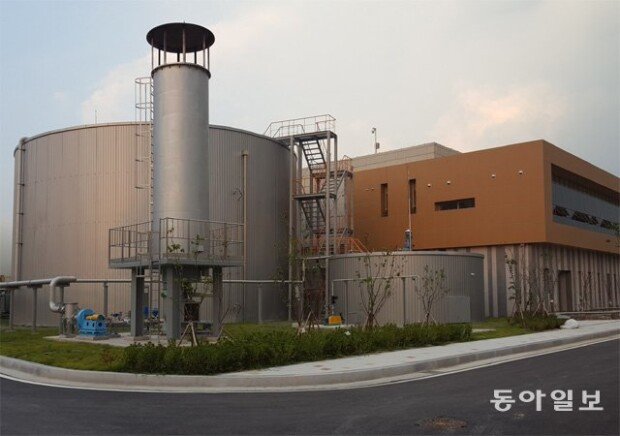 The amount of food waste produced in South Korea is increasing every year. The quantity of food waste generated in the country grew by 22% to 16,221 tons in 2018 from 12,663 tons in 2013, according to the Ministry of Environment and the Korea Environmental Industry & Technology Institute (KEITI) on Monday. The trend is likely to keep going with a rise in the number of single-person households and more people eating out and having delivery foods.
Against this backdrop, a technology using food waste to produce biofuel is receiving increasing attention. The KEITI has been developing a technology that could turn waste resources into energy since 2013, while putting their focus particularly on increasing the purity of methane among other biogases.
The KEITI has invested a total of 23 billion won to develop such technology. Hyundai Engineering & Construction (E&C), the Korea Gas Technology Corporation, and the EG Tech are in collaboration to develop the technology. A biogas is produced when liquefied food waste is degraded by microorganisms in a digester. Hyundai E&C and their partners have succeeded in maintaining a high level of concentration of microorganisms in a digester by filtering out microorganisms in waste water. As a result, they saw a 10% increase in biogas production rate and raised the purity level of methane to over 95%, which is the quality standard of gas.
They also succeeded in catching the stench, the biggest challenge in creating food waste disposal facilities. The entire process was designed with a closed structure to prevent the odor from escaping and a tube was inserted in the area where the stench was generated to collect the odor. These technologies have been used in a bioenergy center in Chungju, North Chungcheong Province since 2016.
Thanks to the successful adoption of technologies in the Chungju bioenergy center, Hyundai E&C signed a 94.6 billion won deal for Siheung Clean Energy Center project with the city of Siheung at the end of last year. The contract price is more than four times the amount of government grants of 23 billion won.
kej09@donga.com