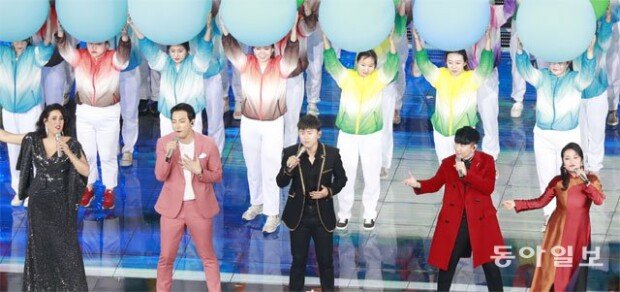 South Korean singer Rain performed at an event attended by Chinese President Xi Jinping on Wednesday. Expectations are high that Rain's performance suggests lifting of the ban on Korean pop culture, which began in 2016 when South Korea deployed the terminal high altitude area defense (THAAD) missile defense system in the country.
After attending the opening ceremony of the Conference on Dialogue of Asian Civilizations in Beijing, Rain performed at the Asian Cultural Carnival held at the Beijing Olympic Park. It has been three years since a South Korean singer performed at a large-scale event in China since the Chinese government slapped a ban on Korean pop culture (Hallyu). Hong Kong's film star Jackie Chan was among the celebrities and performance groups from some 40 countries, such as Hong Kong, Vietnam, and Singapore, who participated in the event that day.
China has been denying any clampdown on Korean pop culture. But K-dramas have not been aired on TV and video streaming sites, Korean celebrities have had their events canceled, and Korean movies have not been released in China since 2016, when the THADD standoff between South Korean and China began.
Although it is premature to say that the ban on Korean pop culture has been lifted, a South Korean singer performing in front of Chinese President Xi Jinping is a positive sign suggesting lifting of the ban, according to a local source. Three Korean films including "Old Partner," "Seopyeonje," and "Hotel by the River" were invited to a film festival, one of the programs of the Conference on Dialogue of Asian Civilizations.
Addressing the opening ceremony of the Conference on Dialogue of Asian Civilizations, President Xi Jinping said China wants to promote cooperation on the exchange of Asian films and television programs with other countries. He added that China also wants to work with other Asian countries to facilitate tourism within the region in order to promote economic development in Asia and develop friendship with fellow Asians. Another local source told the Dong-A Ilbo that President Xi's remarks are not in line with his policy that still bans group tours to South Korea. Expectations are rising that the ban on group tours to South Korea would soon be lifted although the Chinese government currently only allows off-line sales of tourism packages to South Korea.
According to China's National Radio and Television Administration that oversees television programs and films, Tencent Pictures is launching an official remake of the Korean drama "Relay 1988." The filming will start from next month.
Wan-Jun Yun zeitung@donga.com