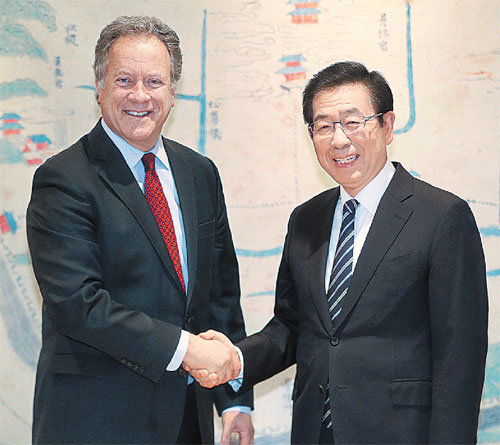 Seoul Mayor Park Won-soon met with World Food Program (WFP) Executive Director David Beasley on Tuesday and promised his support for food aid to the disadvantaged in North Korea.
After meeting with President Moon Jae-in on Monday, Mr. Beasley once again emphasized the seriousness of the food shortage in North Korea by saying, "A recent survey found that about 40 percent of the total population in North Korea is suffering from food shortage." He added that a North Korean adult needs 580 grams of ration a day but the amount will drop to 120 grams a day before this year's harvest. The situation in North Korea is so dire that the ration is cut to one-fifth of the necessary amount.
"From a humanitarian perspective and in all conscience, it is hard to watch our brethren in the North suffering from food shortage," said Mayor Park. "In particular, I share the notion that the biggest problem of all is North Korean children struggling with starvation. We will start discussing ways to provide them with food aid."
Mr. Beasley mentioned that the WFP has a monitoring system that keeps food aid shipments to North Korea from being redirected to other purposes. It appears he was mindful of much criticism that food aid to North Korea has been redirected to the army.
Woo-Shin Han hanwshin@donga.com