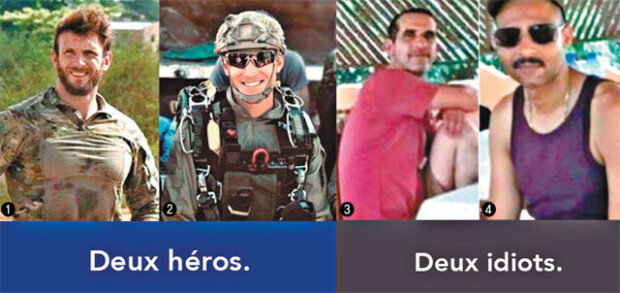 "It was a difficult mission, but the president wanted to chase hostages until they arrive in France," said French Minister for Europe and Foreign Affairs Jean-Yves le Drian to the press after hostages arrived at the Villacoublay military airport near Paris on Saturday. Tears welled up in his eyes as he talked about masters Sergeant Cédric de Pierrepont (33) and Alain Bertoncello (28) who were sacrificed during the mission.
French daily newspaper Le Parisien reported that the mission was reminiscent of an action movie. But in reality, not all soldiers were able to come back alive. The newspaper also reported that the entire country mourned the death of the two soldiers.
Pierrepont is an elite soldier who joined the army at the age of 18 in 2004 and finished the basic military training top of the class in 2005. He joined Commando Hubert in 2012 and became a group leader in April last year. Bertoncello joined the navy in 2011 and served in Qatar after joining Commando Hubert in July 2017. He was dispatched to a mission to fight against terrorists in Sahel region. Commando Hubert was named after Lieutenant Augustin Hubert, who was killed in 1944 during the landing of Normandy and is one of the best five special forces in France. The commando specializes in fighting terrorism, rescuing hostages and underwater demolition.
"What my son did was heroic. He was a humble person who always had a smile on his face. He told us not to worry," said Daniel, the mother of Bertoncello in an interview with Le Parisien. His father also said with a pride, "I am grieved over the loss of my son, but he was given a mission and finished it."
The behind stories of the mission led by the two soldiers are garnering a lot of attention. According to the French press, two French nationals disappeared in the evening of May 1 while travelling safari in the Pendjari national park in North Benin. They did not return to their accommodation and their driver was found dead in the car. The French government carried out a mission by dispatching the special force on May 5, four days after the incident.
The French government found out that the Mali-based militant group Katiba Macina abducted the French travelers and was on the way to Mali via Burkina Faso. The French chairman of the joint chiefs of staff said the American army and their drones carried out an important role in chasing them down. He also said the French special forces soldiers hurried to rescue the hostages as the mission would have been impossible to accomplish after the terrorist group reached lawless Mali.
Jung-Min Dong ditto@donga.com