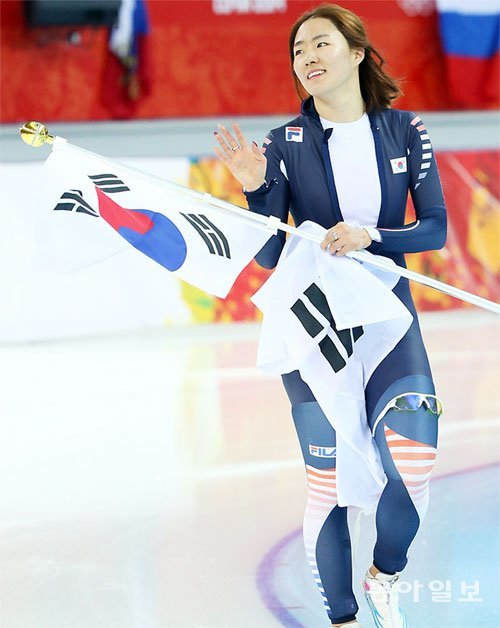 Lee Sang-hwa (30), who has been the unrivaled champion in Korean women's short-distancespeed skating competitions for years, is retiring.
Bonboo ENT, Lee's management agency,said on Friday that Lee will hold an official retirement ceremony at the PlazaSeoul hotel on May 16.
Lee is a "living legend" in Korea's female speeding skating community. She ranked fifth in the women's 500 meter competition at the 2006 Winter Olympics in Turin, Italy. Then, she surprised fans by winning the gold medal in the same category at the 2010 Olympics in Vancouver, Canada, becoming the first Korean to win an Olympic medal in women's speed skating. Lee again won the women's 500-meter race in the 2014 Winter Olympics in Sochi, Russia to become the first Asian to win a gold medal in speed skating in two consecutive Olympic events.
Notably, she set the world record of 36 seconds and 36 in the second event of the ISU (InternationalSkating Union) World Cup in Salt Lake City, the U.S. in November 2013. This record has yet to be broken even today, about five years and six months since.
Lee has been engaging in rehabilitation training by taking rest for one season since the 2018 Winter Olympics in Pyeongchang, Korea. As she has failed to improve her physical conditions to the degree of her satisfaction, she has chosen to endher elite skating career. "I have been able to skating thus far thanks to cheering by fans and my family. Thank you for our efforts," Lee wrote in her social media post early this year, hinting at her retirement.
Heon-Jae Lee uni@donga.com