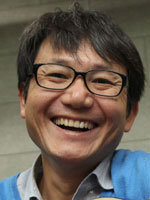 Dear my daughter,
I know you are doing your best for your midterm exams. My little girl reminds me of my high school days when I stood up all night feeling insecure, lonely and self-accusing. I remember it was a series of painful nights. I am so proud of you as you have grown to weather such agonizing nights on your own. My daughter, I feel sorry for you but I want to say that I really love you. We humans have advanced as we want our parents and beloved ones to feel proud and happy because of us. We hope that they think we have made it incredibly. Love is the greatest power that enables us to withstand and overcome adversity, and grow further. When you work hard to become a person just as your role model, you also feel motivated to develop yourself. If you have a role model at your age, it is a great blessing. If you feel urged to prove yourself by surpassing others, or pursue a shallow desire to lead a successful and stable life, it won't help you survive hardship any way.
You also may be motivated to improve yourself by negative drives, such as the revenge you are seeking for being ignored or the determination you have to survive on your own, because you do not want to be left behind or get punished. Such an achievement only lasts a moment, however, because it is not what you and your beloved ones want in your life.
Self-control suppresses impulses and delays moments of instant joy and satisfaction so that you can have more chances of achieving big and long-term goals. The greater patience, the greater satisfaction. Self-control is defined in three ways – resistance to temptation, ability to put off satisfaction and restraint on impulse. You can enhance your resistance to urge by distancing yourself from any source of temptation and encouraging yourself to be patient, just as you have changed your mobile to a phone equipped with basic streamlined features to stay focused on your studies. As you improve your resistance to temptation over time, you may find self-autonomy and confidence in yourself.
You can put off presenting satisfactions only when you have confidence in greater future rewards in return for patience. This is where your parents and grown-ups around you come in. As you mature, you should lengthen the time to pay patience. In this regard, your mom and I think we have done it right for you. Self-restraint on impulse comes from the wisdom that makes you secure and careful. I am proud that you have all in yourself.
I want you to promise me that you will stay confident in yourself, show your courage and do your best just as I love and trust you so much.