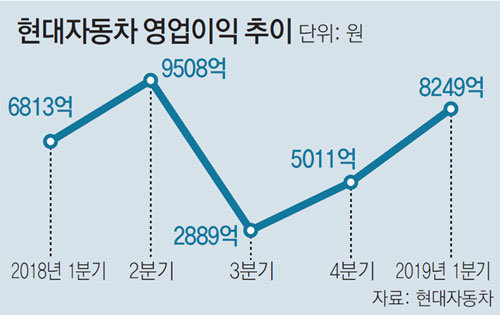 Hyundai Motor Co.'s sport utility vehicles (SUVs) led the Korean automaker's earnings for the first three months of this year. The carmaker saw its year-on-year quarterly operating profits rise for the first time in six quarters during the January-March period of this years, boosted by robust sales of its new SUV models including the flagship Palisade. However, experts say that it is too early to expect a long-term sales recovery given the shrinking global car market and slumping sales in China.
Hyundai said Wednesday that its first-quarter sales rose 6.9 percent year-on-year to 23.99 trillion won, while its operating income climbed by 21.1 percent to 824.9 billion won during the same period. Hyundai's global sales in the first three months fell 2.7 percent year-on-year to 1,021,377 vehicles due to a slowdown in the Chinese economy and Europe's stricter environmental regulations.
Hyundai Motor highlights its improved profitability for the first quarter, as increased sales and operating profits despite a decreased number of cars sold means that the company sold more high value-added vehicles and offered less incentives to dealers. "Robust sales of new SUV models and an improved product mix led the qualitative growth," said Choi Byung-chul, Hyundai Motor's chief financial officer and vice president.
Various indices have shown Hyundai Motor's improved profitability. While the carmaker's operating profit ratio fell to below the 2 percent mark in the third quarter of 2018, it rebounded to 3.4 percent in the first quarter of this year. Sales of SUVs accounted for 38 percent of the Korean automaker's total car sales in the first quarter, compared with the 34.2 percent a year earlier. A weak SUV lineup, which was cited as one of Hyundai Motor's weaknesses, was reinforced by the launch of the new mid-sized Santa Fe and the flagship Palisade to lead the rise in the company's profitability.
Some experts say that despite the improved profitability, it is too early to view it as a full-fledged recovery of Hyundai's earnings performances, noting that the increased year-on-year operating profits for the first quarter was due, in part, to the carmaker's extremely poor performances last year. To make matters worse, the global car market continue to shrink. The global auto sales for the first quarter of the year fell by 6.7 percent year-on-year. Vehicle sales in China also plunged 19.4 percent year-on-year during the first quarter.
Hyundai Motor aims to continue to benefit from its new models, including the new Sonata mid-size sedan, the Venue compact SUV, the GV80 luxury SUV and the G80 luxury sedan. The company also eyes an operating profit of 4 percent or more this year through additional cost reduction efforts.
Hyoun-Soo Kim kimhs@donga.com