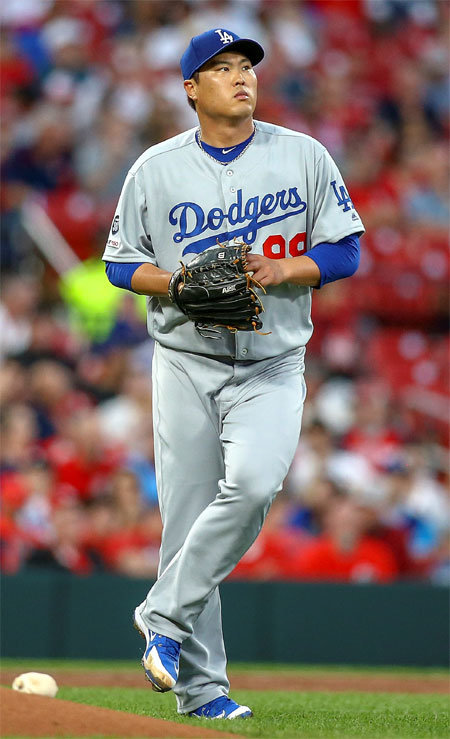 An unexpected incident happened on what was supposed to be joyous day. Ryu Hyun-jin's 100th game in Major League Baseball (MLB) ended with an injury. Leaving the mound, Ryu was grim-faced as he was showing a stellar performance early in the season, raising expectations for 20 wins in the season.
Ryu aimed to become the first Korean pitcher to grab third consecutive win of the season in MLB. But he was replaced in the second inning in an away match against the St. Louis Cardinals on Monday.
With two outs in the bottom of the second inning, when the two sides were tied, Ryu expressed discomfort in his body after throwing a ball against his counterpart Miles Mikolas. The Dodgers coaches, including the manager Dave Roberts talked with Ryu and patted him on the back before sending him to the dugout.
The sudden exit of Ryu was due to his left groin strain, the same part he got hurt last season. Ryu stretches his right leg forward and rotates his body clockwise to throw a ball. If he stretches his right leg too much to increase pitching velocity, he can strain his left groin muscle in the process.
There are concerns that the injury might negatively affect Ryu's contract next year as he had been on disabled list every year since 2014. Ryu signed a 17.9-million-dollar one-year deal with the Dodgers. Ryu could lose ground in negotiations for a new deal next year if he had a bad reputation of being injured frequently.
Won-Joo Lee takeoff@donga.com