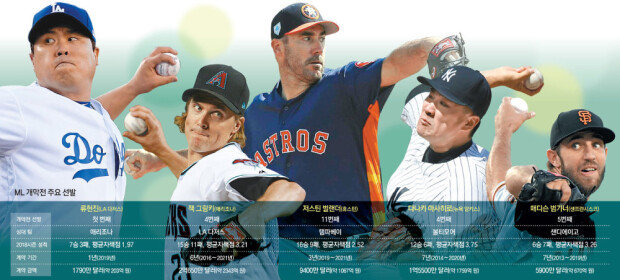 The 2019 season of the Major League Baseball (MLB) begins on Friday. Although the Oakland Athletics and the Seattle Mariners had their Opening Day at the Tokyo Dome in Japan last week, the true Opening Day is the one that begins in the U.S. mainland.
Thirty pitchers with best pitching abilities will have an honor to be the Opening Day starter. One of them is Ryu Hyun-jin, 32, who will begin the season for the first time. Ryu will compete against Arizona's starter Zack Greinke, 36, at the Dodger Stadium. On the same day, other "monster" pitchers representing MLB will start the opener at other stadiums.
The most remarkable pitcher of them is the Houston Astro's Justin Verlander, 36, who will start his 11th opener this time. Verlander made a debut in Detroit in 2005 and had started nine openers for the club until 2017. The Astro pitcher won the 2006 American League Rookie of the Year Award, had the most wins for two times, and the most strikeouts for five times. But he has never won the World Series.
Verlander will take the mound in a season opener following the last season. This will mark his 11th opener, ranking 10th in the list of MLB pitchers with most openers. The pitcher with the most Opening Day starts is Tom Seaver with 16 openers. The MLB.com and the ESPN both viewed that the Houston Astros has the highest chance of winning the World Series this season with the help of Verlander and Gerrit Cole.
John Lester of the Chicago Cubs and Julio Teheran of Atlanta Braves are behind Verlander with eight and six openers, respectively. Corey Kluber of the Cleveland Indians and Madison Bumgarner of the San Francisco Giants will also start the season.
The other Asian pitcher who will draw the start on Opening Day other than Ryu Hyun-jin is Masahiro Tanaka of the New York Yankees. This will be his fourth Opening Day start, the highest record for all Asian pitchers in MLB. Tanaka has been chosen as opening starter in place of the injured Luis Severino.
Heon-Jae Lee uni@donga.com