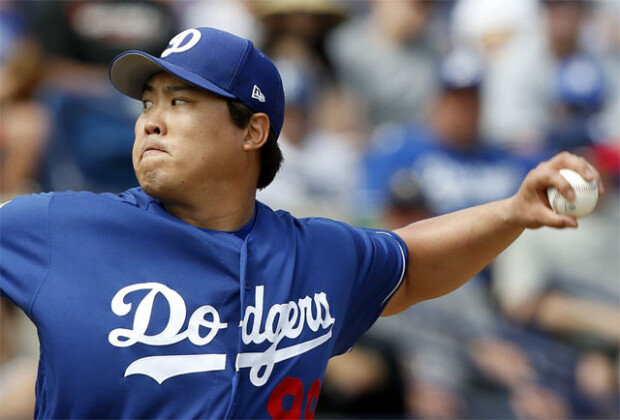 South Korean pitcher Ryu Hyun-jin of the Los Angeles Dodgers has been named the starting pitcher of the team's season opener at home against the Arizona Diamondbacks at 5:10 a.m. Friday. The 31-year-old left-hander is set to become the second South Korean player to pitch on an opening day since Park Chan-ho became the first to do so.
Making an opening day start is a great honor for Ryu, but also comes with a heavy responsibility. With its key starting pitchers sidelined with injuries, the Dodgers have projected its five-man rotation would be Ryu Hyun-jin, Ross Stripling, Kenta Maeda, Walker Buehler, and Julio Urias. Ryu is expected to remain as the first starter until mid-April when Clayton Kershaw and Walker Buehler join the roster.
The South Korean pitcher is tasked with helping the team step off on the right foot on Friday. The Diamondbacks' starter will be Zack Greinke, who once played for the Dodgers with Ryu until he transferred to the current team after the 2015 season, signing a six-year contract at 206.5 million dollars (around 234.2 billion won), the highest average value in the MLB's history. Ryu's annual salary this season is 17.9 million dollars (about 20.3 billion won).
According to the team's rotation, Ryu is scheduled to take the mound at home against the San Francisco Giants next Wednesday. The Giant's left-hander Madison Bumgarner, who had helped the team to advance to the World Series three times, is highly likely to be named as the starter. Bumgarner was not in good shape in the spring with an 8.27 ERA, but is still an ace of the Giants.
Heon-Jae Lee uni@donga.com