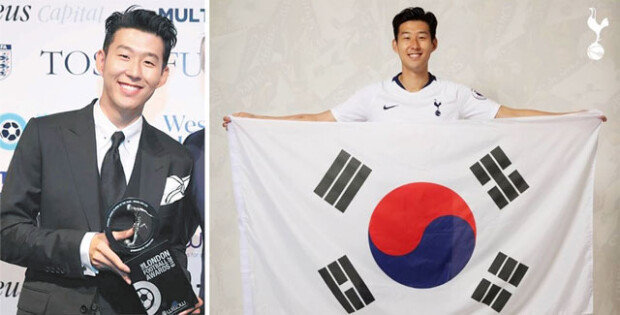 Korean sensation Son Heung-min (Tottenham Hotspur) in the English Premier League became "London's best player" beating over his teammate Harry Kane and Chelsea's Eden Hazard.
The 26-year-old footballer picked up the Premier League Player of the Year prize at the London Football Awards 2019, which took place at Battersea Evolution in London on Friday. The award is presented in nine categories to 12 clubs including Tottenham, Chelsea, Fulham FC, Queens Park Rangers, Watford, Crystal Palace, West Ham United, AFC Wimbledon, Brentford, Charlton Athletic, and Millwall that are based in London. Son was nominated for the honor along with Hazard, Kane, Pierre Aubameyang (Arsenal), and Andros Townsend (Crystal Palace), and received the highest score from a selection panel of 22 soccer experts. Kane received the prize last year, and Hazard in 2015.
"The South Korea international has been a key man for Spurs this season, scoring 16 times and providing nine assists in 34 appearances. He played an important role in not only the League but also the Champions League," the U.K.'s Daily Mail reported. "For me, it's really, really special because such big names have won this award. It means a lot and I'm very happy to win," Son was quoted as saying on Tottenham's website.
Head Coach Mauricio Pochettino of Tottenham, who recently said "it is impossible for us to win" after his team's two consecutive losses in the league, was awarded the Manager of the Year prize. South Korean Ji So-yeon of Chelsea Ladies FC was nominated for the Female Player of the Year award for the first time in four years since her 2015 debut but failed to win the honor.
Meanwhile Tottenham posted on its Facebook page on the day a photo of a smiling Son holding a large taegeukgi and note reading, "Today marks the 100th anniversary of the March 1st Movement. I hope that all of you spend the day remembering noble sacrifices of our independence fighters and fallen patriots."
Seung-Kun Lee why@donga.com