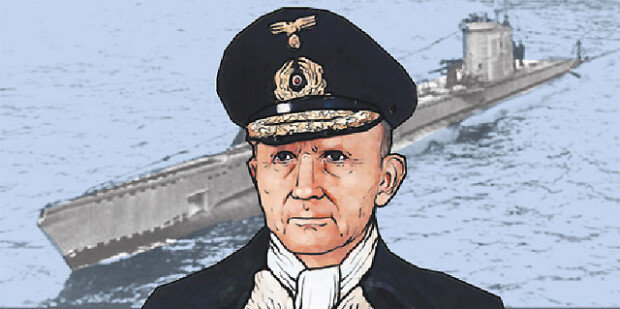 Germany was traditionally a country heavily dependent on army. Only after Prussia had achieved unification in Germany and proclaimed the German empire in 1871 did the country looked to the ocean. But it had many geographical disadvantages. Firstly, exiting to the Atlantic was dangerous. The Royal Navy, the best navy force in the world, was blocking the Strait of Dover. It had to exit to the Atlantic via the North Sea, sailing between Norway and the Northern part of the U.K. The North Sea is one of the roughest seas in the world. If Germany were to engage in a battle against the U.K. or the U.S. in the North Atlantic, its damaged battleships had to come home through the sea off northern Scotland. Under these circumstances, it is hard to win a battle even if the two countries have similar naval capabilities. But developing naval capability matching that of the U.K. was practically impossible.
It was Karl Donitz, who found a solution on this unlevel playing field. Donitz, who served as a submarine officer in World War I, was confident that the only way to overcome this geographical disadvantage and confront the Royal Navy was "submarine (U-boat) strategy."
By using submarines, the Imperial German Navy could break through the naval blockade placed by the Royal Navy. Then those submarines attacked the British vessels delivering supplies to the U.K. rather than fighting against British battleships.
Being a maritime country was the biggest strength of the U.K. but it also became its weakness. It imported most of the resources, including food. Therefore, it had no other options but to surrender if it does not get supplies from transport ships. Seeing through this weakness, Donitz devised a strategy of attacking supply ships and trained the German U-boat arm. After the outbreak of World War ll, Donatz's U-boat fleet became a horror and a nightmare to the Royal Navy. His strategy almost changed the history.
After Germany's defeat in the war, Donitz was brought to the Nuremberg trials for war criminals. His submarine strategy, which was devised before the war, was submitted as evidence that he is an invader just like Adolf Hitler. Donitz protested his innocence, saying it is a duty as a serviceman to suppose a war against neighboring countries and devise war strategies. He was found not guilty on this charge.
What can we say of ourselves? Are we not restraining ourselves from supposing possible situations under the guise of justification and belief? I am not sure, but if it is so, this cannot be called a country.
yes@donga.com