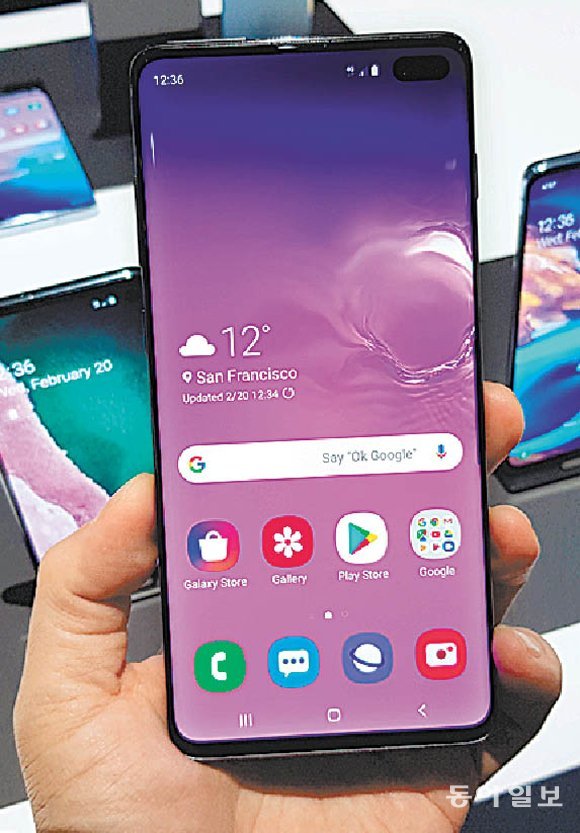 The Bill Graham Civic Auditorium in San Francisco was full of cheers and ovations for about 90 minutes during Samsung Electronics Co.'s Unpacked event, on Wednesday (local time). Some 3,500 partners and media people were surprised as a large screen showed a smartphone whose display panel unfolded to both sides.
Justin Denison, Samsung's senior vice president of marketing, said that the new and foldable phone has created a new dimension that would change the rectangular shape of smartphones that has continued for 10 years.
The Galaxy Fold is an in-folding smartphone, featuring totally different experiences including the split screen and the user environment. When folded, the Galaxy Fold has a separate 4.6-inch cover display panel. Unfolded, it becomes a 7.3-inch display device. The model folds completely, rather than simply being bendable.
The device offers increased storage capacity ahead of the launch of the fifth-generation telecommunication technology, with which virtual reality will become an everyday feature. It comes with 12-gigabytes RAM, 512 gigabytes of storage capacity and a 4,380 mAh battery. In addition, it features six cameras that can be used in any direction.
The crowd seemed surprised when Samsung announced the price of 1,980 U.S. dollars, higher than any other mobile device released so far. After the presentation of the Galaxy Fold, the Korean tech giant also introduced the Galaxy S10 smartphone and the Galaxy Buds wireless earsets. The Galaxy S10 is expected to be priced at around 1,000 to 1,200 U.S. dollars.
Koh Dong-jin, head of Samsung's IT & Mobile Communications Division, told reporters that the Galaxy Fold will be released in Korea in mid-May as the top premium 5G product, adding that the company aims to sell over 1 million units. The Galaxy Fold will be priced at 2.3 million won to 2.4 million won in the domestic market.
Seok-Jun Bae eulius@donga.com