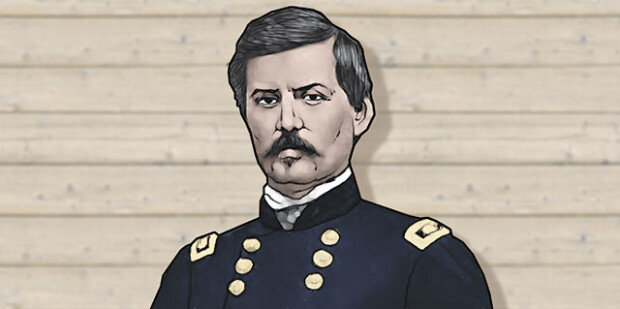 George McClellan, who was appointed as a major general of the North army upon the outbreak of the Civil War, was a clever and talented officer. He served in the Mexican War in 1846 as a second lieutenant. All the officers, who played a major role in the Civil War, fought in the Mexican War as well, and Ulysses Grant, the most acclaimed Union general during the Civil War, was among them. The oldest officer was Robert Lee, who distinguished himself in the Mexican War and later became the hero of the Confederacy in the Civil War.
Although McClellan was overshadowed by Lee, he made a significant contribution to the war as a great commander and a military administrator. With his daring reconnaissance tactics, Lee predicted the Mexican army's path and determined the path and combat spot of the American army. On the other hand, McClellan played a pivotal role in front of the operations board at the headquarters.
An unexpected defeat of the Union in the early stage of the Civil War panicked Washington. Then McClellan came on the scene and leveraged his ability to draft and train soldiers in a short time. Encouraged at his success, he was nominated in 1864 to be the Democratic candidate for president against his former boss, Abraham Lincoln. Thinking that Lincoln, with no experience in the military, cannot be in charge of the greatest war in history, McClellan considered himself as a president material.
McClellan took on a challenge in 1862 to verify his capability. He launched an amphibious maneuver, in which the Union Army captures Richmond by landing on Virginia, effectively circumventing the Confederate Army. It was an unprecedented large-scale operation at that time. Steamships, railroads, and tens and thousands of horses and mules were mobilized to land over 120,000 men on the coast.
A problem came up from where McClellan's genius could not reachㅡUnion commanders' lack of ability in field operations. Some say the defeat was because of Lincoln's refusal to send reinforcements, but Union commanders were actually poor at field operations. No matter how much weapons you have, you cannot fight without ammunitions, and no matter how much ammunitions you have, they will be no use if the artillery does not know how to use them properly. McClellan did not know there are areas that his genius could not cover. Would he have succeeded if he had become the president instead of Lincoln? What is required to be a good leader is not a genius but an ability to acknowledge his shortcomings and not to be insistent.
Eun-Taek Lee nabi@donga.com