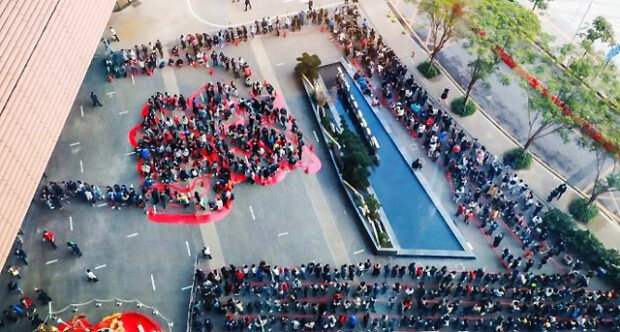 A long line of employees of Tencent Holdings waited overnight outside the Chinese information technology company's headquarters in Shenzhen to get a red packet from Tencent Holdings Chairman Pony Ma (also known as Ma Huateng).
The Hong Kong daily South China Morning Post reported on Wednesday that the line on the previous day was "so long that it snaked around the new headquarters of Tencent in Shenzhen's Nanshan district, all the way up to the 48th floor of the building." They were waiting to receive a red envelopes containing money to employees as a form of good wishes following the Lunar New Year's Day. Some started to wait in line from 8:00 a.m. on Monday.
Ma handed out red envelopes in person to promote his employees' morale. The money contained in the envelops amounted to 50 to 200 yuan (about 7 to 30 U.S. dollars). They reportedly waited in the long line to get the "blessing" from Ma. In Chinese culture, corporate managers hand out red envelopes with money as a token of their well-wishing for employees to mark the beginning of a new year.
Ji-Sun Choi aurinko@donga.com