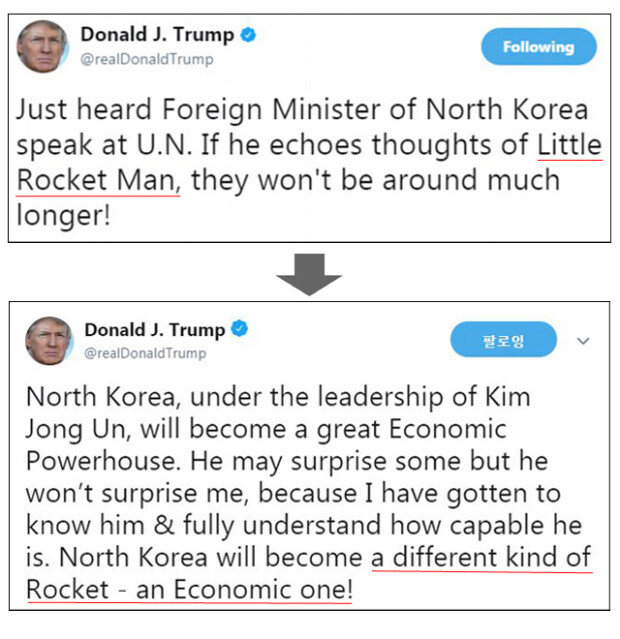 "North Korea, under the leadership of Kim Jong Un, will become a great Economic Powerhouse," U.S. President Donald Trump mentioned again North Korea's economic potential as he announced on Friday that the second Washington-Pyongyang summit will take place in Hanoi, Vietnam on February 27 and 28.
After being debriefed about the outcome from Stephen Biegun, the U.S. State Department's special representative for North Korea who concluded three-day working-level talks in Pyongyang, the U.S. president is apparently seeking to boost optimism about his upcoming second summit with North Korean leader Kim Jong Un by suggesting the possibility for the North's economic growth.
"He may surprise some but he won't surprise me, because I have gotten to know him & fully understand how capable he is," President Trump said. "North Korea will become a different kind of Rocket - an Economic one!" President Trump used the same word "Rocket" but in a completely different way from the time when he had called North Korean leader Kim "Little Rocket Man" in his U.N. General Assembly speech in September 2017.
President Trump is apparently urging Pyongyang to take a decisive action by implying that Washington could provide economic aid and make investment in the North according to the level of Pyongyang's denuclearization. After Secretary of State Mike Pompeo mentioned North Korea's "bright future" in a recent press interview, Stephen Biegun said in his talk on Jan. 31 at Stanford University, "With the completion of denuclearization, we are prepared to explore with North Korea and many other countries the best way to mobilize investment, improve infrastructure, enhance food security and drive a level of economic engagement."
"The Trump administration is quietly preparing a special 'economic package' designed to entice North Korean leader Kim Jong Un," The Washington Times reported late January. It could be interpreted that the Trump administration could make joint investment with South Korea, Japan, the European Union and others to launch multibillion-dollar projects to construct infrastructure and develop economy for North Korea.
lightlee@donga.com