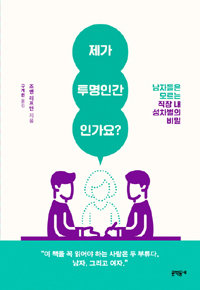 The late acclaimed Stanford neuroscientist Ben Barres was a passionate researcher. After having lived as woman named Barbara, the researcher transitioned at age 42. During college years, Barres was the only one among hundreds of students to have solved an extremely difficult question. This prompted classmates to suspect that a male student might have solved the question for Barres. When writing six research papers during the doctorate degree program as woman, Barres lost a research position to a male student who wrote just one paper. After transitioning, no one was suspicious of Barres' academic authority. This reveals without reservation "unconscious prejudice" against gender that is deep-rooted in any society.
The book "That's What She Said" introduces examples of women who have failed to achieve their dreams due to childrearing duty and glass ceiling in society after suspending their professional careers. Author Joanne Lipman ascended the job ladder all the way to become the first female deputy editor in chief of the Wall Street Journal and managing editor of the USA Today. The book reveals the writer's robust news gathering and investigative reporting capability by showcasing discriminatory practices in many parts of the world, and suggesting solutions to those problems.
More than anything, the author stresses that women's success is not men's failure, because the two sides are not a "zero sum game." An increase in women's participation in economic activities will bring about 2.1 trillion dollars in the Gross Domestic Product (GDP) in the United States for the next two decades, according to a McKinsey survey. We wonder what preparation Korea, which ranks fourth in the number of women who suspend or end their careers when they have children among the OCED member countries, is making as society to change.
Won-Mo Yu onemore@donga.com