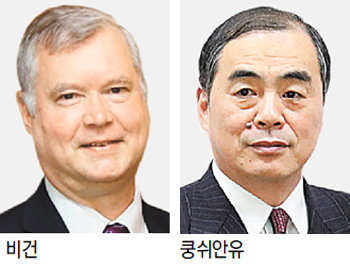 U.S. Special Representative for North Korea Stephen Biegun held talks with Chinese Vice Foreign Minister Kong Xuanyou following working-level nuclear talks with his North Korean counterpart in Sweden. The meeting of the chief nuclear negotiators of Washington and Beijing has raised the possibility that China will participate in the future nuclear talks where they will also discuss the establishment of a multilateral peace regime.
The State Department said Thursday (local time) that Biegun met with Kong Xuanyou in Washington to address "efforts toward advancing the final, fully verified denuclearization (FFVD)" of North Korea. It added that the two nuclear envoys discussed the results of the U.S.-North Korea working-level talks held last Friday in Washington D.C. as well as the developments between the United States and the North and the North and China.
Biegun and Kong also discussed the importance of continuing UNSC sanctions implementation, the State Department said. Washington seems to have reconfirmed its principle of maintaining sanctions until the North takes concrete steps toward denuclearization while discussing the possible "carrot" for the regime, which is likely to be discussed at a second U.S.-North Korea summit. Kong's trip to Washington to meet with Biegun apparently signals that China keeps a careful eye on the recent denuclearization talks and wants to engage in the negotiation process.
Observers also point out that North Korea appears to have recently replaced Vice Foreign Minister Choi Sun Hee with Kim Hyok Chol, former ambassador to Spain, to negotiate with Washington in an attempt to seek a two-track process for denuclearization and the establishment of a multilateral peace regime.
Gary Samore, former White House coordinator for arms control and weapons for mass destruction, said in an interview with Radio Free Asia Thursday that if Trump and Kim, at their second summit, agrees to hold a two-plus-two meeting with South Korea and China to discuss a peace regime, the North is likely to send Choi as a negotiator.
lightlee@donga.com