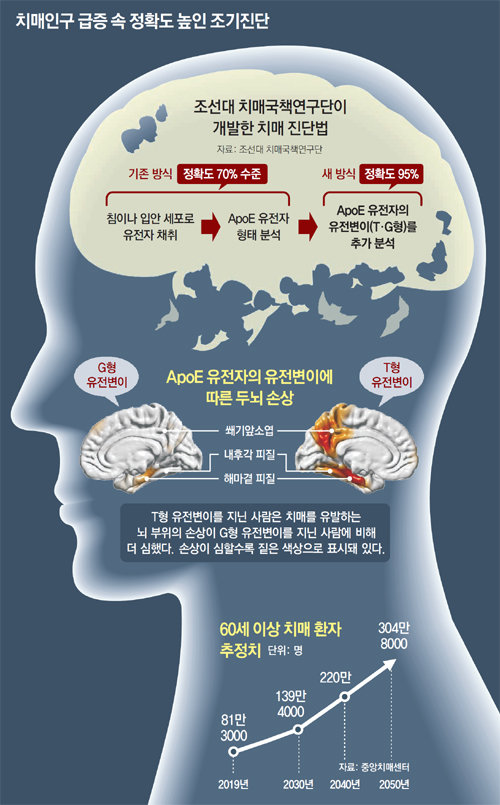 A team of researchers at Chosun University announced Wednesday that they obtained a national patent last year for a new diagnostic method they developed for Alzheimer's disease that has greatly increased the accuracy of DNA analysis. The method is capable of analyzing a DNA sample collected by spitting or scraping a cotton swab inside the patient's mouth in two days with a 95 percent accuracy.
Currently, medical institutions at home and abroad diagnose Alzheimer's disease by testing if a patient has Apolipoprotein E (ApoE)-e2, e3, or e4 gene. An ApoE-e4 gene is the most commonly known genetic contributor to Alzheimer's. But this method has only an accuracy of 70 percent. Furthermore, people, who carry an e4 gene, have a different level of risk of developing the disease. It takes an MRI test to exactly know that if someone has an Alzheimer's or not.
The research team found out that an e4 gene has two types of variation: Type-T and type-G. They looked into the 40,000 genomes they have and discovered that patients with type-T genetic variation had a 95 percent chance of developing Alzheimer's disease, a 2.5 times higher chance than those with type-G variation. If the existing diagnostic method is like distinguishing salt from sugar, this new method is like telling if the salt is rock salt or sun-dried salt.
In the process, it is found that a greater proportion of East Asians, including Koreans, than Westerners have type-T variation, facing double the risk of Alzheimer's disease.
Gun-Hee Cho becom@donga.com