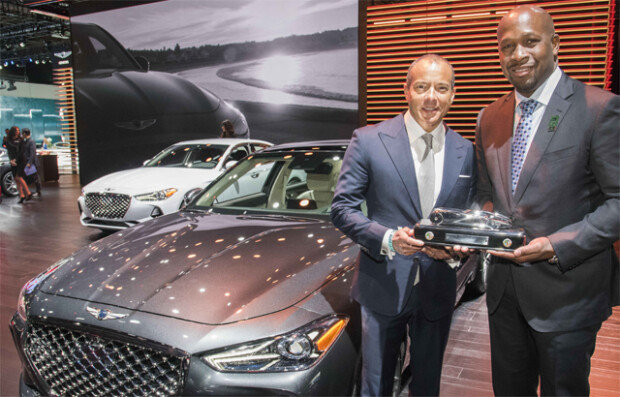 Hyundai Motor has captured top two awards at the 2019 North American Auto Show in Detroit. It became the first South Korean automaker to take the honors in two categories given by a panel of auto critics, and the fourth overall since the annual show began in 1994. All eyes are now on whether the awards will help the carmaker boost its market share in the American market.
Hyundai said Monday (local time) that the Genesis G70 and the Kona won the Car of the Year and SUV of the Year honors at the Detroit auto show held in Cobo Hall. The awards are given to new models in three categories, namely car, truck, and SUV.
The Genesis G70 bested the Volvo S60 and the Honda Insight in the category. The car had already been named Motor Trend's Car of the Year in January. The Hyundai Kona, which took the top SUV honor, beat the Acura RDX and the Jaguar I-Pace. The compact SUV received excellent critical reviews for its state-of-the-art technology for safety and future-oriented design, Hyundai said.
South Korea's No. 1 automaker expects that the Car and SUV of the Year awards and the planned launch of a new model will enhance its sales in the U.S. market. In fact, after its Genesis BH received the Car of the Year award in 2009, the company's market share in the United States rose to 4.1 percent from 3.0 percent a previous year.
However, the carmaker's share in the market has been on a steady decline since it peaked at 5.1 percent in 2011. Last year, a total of 677,946 units were sold in the United States, a fall for two consecutive years. Its market share also dropped by 0.1 percentage point to 3.9 percent, falling below 4 percent level for the first time in 10 years since 2008 (3.0 percent). Though Hyundai's share of the American SUV market was a record high (3.7 percent) as of last November, the company could not lift its overall sales due to a slowdown in the U.S. auto market.
"A car that won the Car of the Year award in the United States gives an impression of being a 'reliable car' to consumers," a Hyundai official said. "We expect that the honors will have positive effects on sales."
Securities firms also expect that Hyundai Motor will bear fruit in the North American market starting from the second half of the year. "The launch of a new model Palisade as well as reductions in incentives for sales people and stock will improve the company's financial structure," said Yoo Ji-woong, a researcher at EBEST Investment and Securities Co.
warum@donga.com