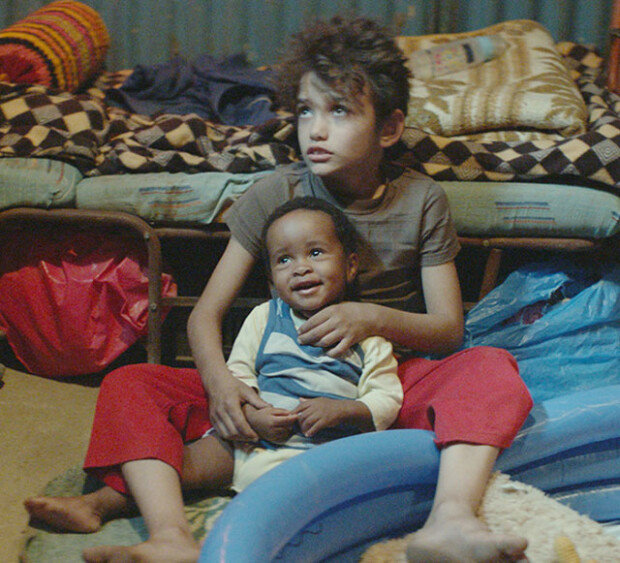 The Israeli city was condemned to hell by Jesus as one of the unrepentant cities, and was ruined by the rising Persian Empire in the 7th century. Nadine Labaki, director of "Capernaum," a Lebanese film to be released next Thursday, was reminded of the destroyed ancient city in Beirut, seeing miserable lives of refugees.
The film starts with a courtroom scene, where Zain is brought before the judge. Imprisoned for having stabbed a man with a knife, he has filed a suit against his parents. Asked why he is attacking his parents in court, Zain answers: "For giving me life." He then shouts, "I want them to stop having children!" The film retraces the journey of this child who had to become a "monster" to survive.
It seems common sense has disappeared without a trace in Beirut. Most children don't have birth certificates, and Zain is also guessed to be 12 years old. Boys have to panhandle in the backstreets, where they learn to drug and smoke, while girls are sold off as brides as soon as they begin menstruating. Having sold fruit juice on streets instead of attending school, Zain became mature at a too-young age against his will.
The film calmly portrays the boy's fight to survive in his hopeless little world. When he finds that even his 11-year-old sister Sahar was married off, Zain flees. He seeks refuge in a park, and looks after a refugee's toddler son Jonas, stealing milk and sprinkling sugar on ice to feed him. Adults feel sympathy for Zain, but that's all. He dreams of escaping to another country as a refugee, but his father tells him to either accept the life of an undocumented person or jump out of a window.
The film is also shocking in that it reflects the reality. Zain Al Rafeeaa, who played Zain, was born in Syria but settled in Beirut due to civil wars, and was later found by Labaki by coincidence. Yordanos Shiferaw, who played Jonas' mother Rahil, shot a scene where she was arrested as an illegal immigrant, and was actually put under arrest by the authorities the next day. While shooting the film over a span of six months, the director didn't say a word "action" when cueing actors in an effort to describe refugees' life as it is.
Capernaum was originally the site of Jesus' healings and miracles. At the end, the film shows Zain getting an identity card with a smile on his face. What he wanted from adults was just to be "respected and loved." His stern warning that people should make a world where children can live on after being brought into the world is heartrending. The film won the Jury Prize at the 2018 Cannes Film Festival, and is intended for audiences 15 and over.
Kyu-Jin Shin newjin@donga.com