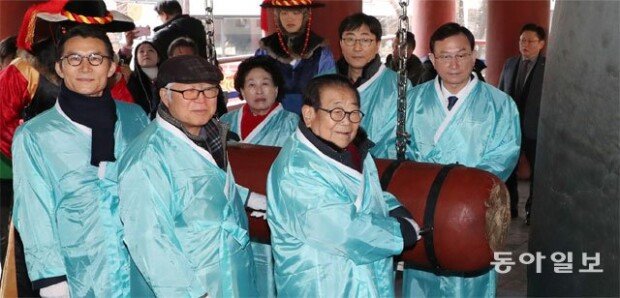 The national bid committee to seek registration of the March 1 Independence Movement as UNESCO's Memory of the World held a bell-ringing ceremony to promote the 100th anniversary of the movement at Bosingak Pavilion in central Seoul on Friday. According to the committee, the event had been planned to inform the public that the centennial of the March 1 Independence Movement is drawing near, just as the bell is tolled on the eve of the New Year's Day.
A total of 36 people participated at the bell-ringing ceremony on the day, or 50 days ahead of this year's March 1 Independence Movement Day. They included veteran comedian and emcee Song Hae, actress Jeon Won-joo, actors Choi Jong-won and Jeong Han-yong, as well as Park Ki-yeol, vice speaker of the Seoul Metropolitan City Council, and Ahn Young-bae, an editorial writer of The Dong-A Ilbo, who rang the bell and sought to inherit the spirit of the movement together. Also attending the bell-ringing event was Cha Yeong-jo, a descendant of an independence fighter and chairman of the Commemoration Committee for the seven Hyochangwon independence fighters.
At its inaugural ceremony at the National Assembly on May 30 last year, the national bid committee announced it would make all-out efforts to get the March 1 Independence Movement, a nonviolence resistance campaign against Japanese imperialism, registered on UNESCO's Memories of the World. The committee is co-chaired by Kim Si-myeong, chairman of the council of bereaved families of the Republic of Korea's patriotic martyrs.
"The March 1 Independence Movement was the original cause that sparked independence movements across Asia, including China's May 4 Movement," said Lee Sang-soo, a senior member of the committee. "Marking the 100th anniversary this year, let us sublimate the spirit of the movement into spiritual revolution to lay the foundation for Korea to take a new leap forward."
Dong-Ki Sung esprit@donga.com