Park Dae-woon wants to travel across Eurasia and through North Korea on a wheelchair.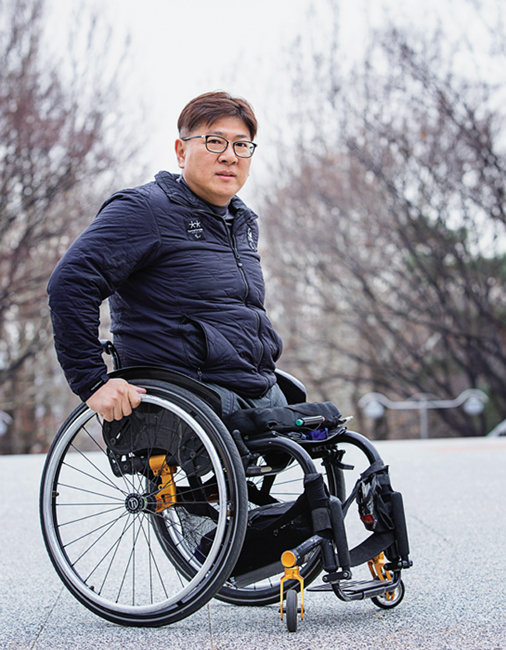 ParkDae-woon plans to travel across 18 Eurasia countries including North Korea,China, Russia, Central Asia and Europe, to commemorate the 100thanniversary of the March 1st Independence Movement in Korea nextyear (photo by Kim Do-gyun).
When the entirecountry was in despair due to the financial crisis of 1998, a 27-year old youngman traveled by wheelchair through five European countries, and across Koreaand Japan, wishing for the success of the 2002 FIFA World Cup Korea/Japan Games.He says he wanted to show Koreans that nothing is impossible, and he wanted to encouragethem to overcome the gloomy economic situation.
An Eight Month Journey Across Europe via North Korea

A youngman at the time, Park Dae-woon, now 47, is preparing for another long journey.This time, he plans to travel across Europe and Asia in 2019 to commemorate the100th anniversary of Korea's March 1st IndependenceMovement. He will hit the road on March 1st, 2019 and travel approx.20,000 km across 18 countries including North Korea, China, Russia, CentralAsia and Europe for eight months. "I hope many people will look back over the last100 years and see how Korea overcame hardship, and then look forward to thenext 100 years with a renewed determination," Park says.

Is there any specialreason to travel across Europe and Asia in commemoration of the 100thanniversary of the March 1st Independence Movement?
"Ifelt several things while travelling in Europe and Japan 20 years ago. OneJapanese I met during my journey told me, "You don't have legs, but you aredoing amazing things like connecting Korea and Japan." His words were a greatencouragement to me. Some Koreans told me that my challenge gave them greatenergy during the time when everybody was feeling despondent due to thefinancial crisis. Last year, I made up my mind to take another meaningfuljourney like I did 20 years ago. Now I am married and have my own children, soI want to send some meaningful messages to future generations. In addition, I hopeto commemorate the 100th anniversary of the March 1st IndependenceMovement and pray for the joint hosting of the 2032 Olympic/Paralympic Games bythe two Koreas. While preparing for my journey, a mood of reconciliation was createdon the Korean peninsula, so I think I will be able to go to Europe throughNorth Korea."
Do you thinkit's possible to travel across Eurasia through North Korea?

"Idecided to go through North Korea in November last year. I heard that the NorthKorean leader, Kim Jong-un, studied in Switzerland. So I guess he is likely tohave learned to have consideration for the disabled. Furthermore, two inter-Koreasummits were held this year, and the Pope is expected to visit North Korea. Ofcourse, I can fly to China and start my journey there. However, I believe goingthrough North Korea would be more meaningful, and I am currently contactinggovernment agencies."
You don't havea lot of time left until March 1st. How prepared are you?

"Consideringthere might be the possibility of going through North Korea, I plan to buy awheelchair for climbing mountains, as well as a sports wheelchair for a speedierride on flat roads. 20 years ago, I hit the road with my friend, carrying abackpack without any plan. One day I was sleeping in a tent, the police cameand asked us to leave the area. This time, I plan to put together a team for amore well-organized trip. Many people have offered help and I think I can get asponsor soon. Once I have more concrete plans, I will start my journey with acamping car, so I have a place to sleep and eat. Plus, I will prepare a droneto film my trip and share the videos on YouTube."
I think which partof Eurasia you visit will be important.

"Since the journey is tocommemorate the 100th anniversary of the March 1st IndependenceMovement, I plan to visit related historic sites. Plus, I want to meet and talkto descendants of Korean independence activists, who are living in adversity inRussia, China and Central Asia. I also want to meet Korean-German nurses,miners, and adoptees. I am now promoting my travel plan, and those who share myobjectives are providing support. I think I will get some help from Koreancommunity associations in foreign countries as well."

Parktraveled across Europe and Japan in 1998 and 1999, wishing for the success of the2002 World Cup Games, and his challenge left a deep impression upon manypeople. Park traveling in Japan (left). (Photos from Park Dae-woon).Parkarrived at his final destination, Imjingak Pavilion[1]in Korea (right). (Photos from Park Dae-woon).
[1] Imjingak Resort, located 7 km from the MilitaryDemarcation Line, is now at the forefront of tourism related to the Korean War.
"I work outregularly, so my physical condition is not a problem."

You traveled 2,002 km through 5European countries in 1998, and then 4,000 km through Korea and Japan thefollowing year. You were only a sophomore and junior then. How was thatpossible?
"I wanted todo something meaningful while in college, so I made a reckless decision (laughs).In the beginning, I thought about getting a part-time job so that I could affordthe journey, but that wasn't enough, so I sent proposals to several companiesto obtain sponsorships. As a result, Korean Air offered flight tickets and theMinistry of Culture, Sports and Tourism provided a wheelchair. My travel toEurope in 1998 was publicized by the press, so I was able to get more aid thefollowing year. In particular, the Korean Residents Union in Japan contactedits branch offices to provide accommodations; and raised one million yen infunding. The journeys I took were made into a TV documentary in Korea. So Ibelieve my challenge was quite meaningful in various aspects."

Now you are in your late 40's. Do you think it is physically possible totravel for 8 months?
"Frankly, I was more concernedabout my physical strength rather than about planning for the journey itself.Even though I regularly work out to stay in shape, people around me are worriedbecause of my age. When I joined a company workshop in Jeju Island in mid-November,I stayed on the island two extra days to practice riding 30 km in a wheelchairfor about eight hours a day, including at night. I was still able to do myusual activities the next day, so I became confident. Unlike 20 years ago, I don'tneed to worry about room and board, and I'll have some team members with me alongthe journey. I don't think there will be any problems during my eight-monthjourney if I take care of my physical condition well."
What do your family members say about your eight-month Eurasian journey?

"I explained mytravel plans to my 11 and 8 year old kids, pointing out my scheduleddestinations on a globe. Since I frequently go on business trips, they somewhatunderstand the situation. But I don't think they exactly understand their dad's8-month absence. My mother does not know my plan yet, so I need to explain itto her soon. Even though my wife is not 100% happy about my journey, shemarried me because of my passionate attitude towards life, so she is supportiveof me."
You work for the Korean Paralympic Committee. Are you going to quit your job when you start traveling?
"I will be onofficial leave during that period. The company also supports my journey sinceit is in support of a successful co-hosting of the 2032 Olympic/ParalympicGames. Usually the Paralympic Games are held after the Olympic Games, so they getless attention. During my travel, I plan to actively put forth and promote theidea of holding the Paralympic Games ahead of the Olympic Games."
Living Childhoodand Youth with Optimism and Passion
He lost his legs in a car accident at the age of six.While playing with some older kids near a road, he was hit by a car as thedriver didn't see him. He opened his eyes seven days later after a major surgeryand had to face reality. However, he was a cheerful kid and overcame prejudicewith his positive energy, and he even outperformed others with no disability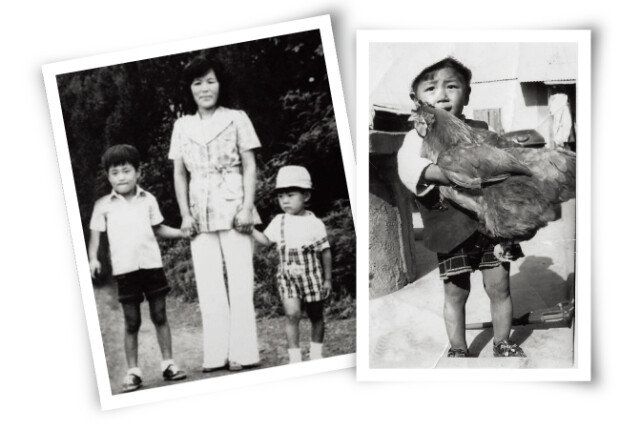 A photo of Park and his mother and older brother before the accident (left). He was an energetic kid who even carried a large chicken with his bare hands (right). (Photo from Park Dae-woon).
Do you remember your accident?

"I still canvividly remember the accident. There was a wide road in front of the Daegu MBCbuilding, and I used to play near the road since my house was nearby. One day,my brother and I were wrestling with some older kids. A kid then tried to hitme, I ran to avoid him and that's when the car hit me. At the time, many peoplethought it is better to be killed in an accident than to survive and becomecrippled, so the driver intentionally ran into me again. I was sent to thehospital, and I recovered consciousness a week later. Medical technology was notwell developed at that time, and I was told it was impossible to restore mylegs as all the leg muscles were damaged."
You attended regular schools, instead of special education schools. You wereeven the class president when you were in elementary school.

"I didn'tsuffer a lot of trauma maybe because I was too young. I was very cheerful evenafter the accident. My neighbors worried that I might become cynical when Igrow up, thinking that I was too young to understand the situation at the time.Of course, I had some hard times, but I had a cheerful disposition, partlythanks to my mother's wonderful guidance. In addition, my schoolmates were veryconsiderate and accepted me as I was. When I was in fifth grade, I got a B in physicaleducation, the most difficult subject to me, and I became eligible to run for classpresident. I competed and won during the second semester."
You majored inWestern painting at Daegu University and entered the Mass CommunicationDepartment at Yonsei University.
"I wasn't bad atstudying. I originally tried to enter a Korean medicine college but failed.Since I liked painting, I went to a private art institute to learn painting andtook the Korean SAT again. As a result, I entered the Western paintingdepartment. However, I wanted to major in an area where I could communicate morewith others. So I took the SAT again at 27, and that's how I entered the MassCommunication Department at Yonsei University."
You were activelyengaged in school activities. You even planned to travel across foreigncountries back then.

"I used to actively express myopinions. I joined Guernica, a disability rights advocacy club, and pointed outproblems such as buildings that only had stairs, and the library that did nothave wheelchair access. I created a team while planning the journey acrossEurope, Korea and Japan. I was able to do a lot of these things thanks to theactive support of my schoolmates."
You also appeared in a gag program in 2005. What made you appear on theshow?

"I came to appear on the show through some personal connections. When singerKang Won-rae(one of the members of aSouth Korean dance music duo, Clon, that debuted in 1996) was hospitalized at Severance Hospital due to anaccident, my friend, who was a few years ahead of me in college, was working onthe hospital's social work team. I guess he thought Kang would be encouraged bymy case, since Kang and I are similar in age, and we both had similarsituations. So my friend introduced me to Kang and I met a few other entertainerslater on. At the time, gagman Hong Rok-gi starred in the stand-up comedy showPokso Club. A skit called Blanca, which dealt with the socially-vulnerable, wasquite popular, so Hong recommended me to join a new gag program. I auditionedand performed on stage. I grabbed some attention, but I decided to quit sixmonths later since becoming a gagman was not what I originally planned. Thenext year, I joined my current company and have been working there ever since."
"My family is my energy. My children make me smile."You married your wife in 2005 around the time you appeared in the gag program. How did you meet your wife?
"I mether in 2003. My wife saw me on a documentary aired by a local broadcastingnetwork in 1998, and she was deeply impressed by the program. In 2002, she sawme again on a TV documentary, and she wanted to know more about me. She likespeople who live life to the fullest. She thought that I was quite energetic in1998 but looked very gloomy in three years. She wanted to encourage me, so shesearched for my email address and sent me an email. We met each other in 2003and started dating. She was the only child in her family, so her parentsopposed our marriage. However, her relatives spoke well of me, and we were ableto get married."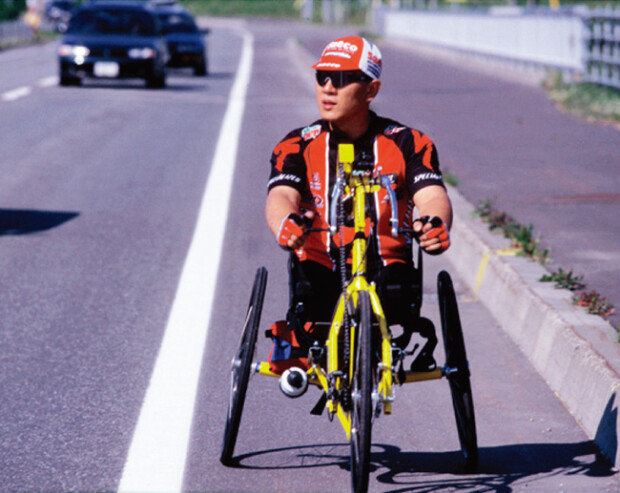 Park riding a sports wheelchair when he was a college student (photo from Park Dae-woon)
Now you are a father of two kids. Do you get along with them?

"Since my wifeworks on weekends, I am the one who takes care of the kids during weekends. Itseems my kids think I am somewhat like their mother (laughs). I spend a lot oftime with them, so I frequently give them long lectures, asking them to stopusing cell phones for instance. My kids do not care much about my disability. Theyeven think my disability is some kind of honor. When the younger one wasfighting with her friend, she said, "My dad is a disabled person," thinkingthat it is something to be proud of. My first kid once saw me telling off someonewho parked his car in a handicapped spot and he asked me, "Who has a higherposition, the President or you?" I think kids can grow into people without prejudiceif they are educated well during their childhood."
I think you are at the peak of your life since life expectancy is almost at 100.How do you feel when you look back upon your life?
"I think I lived a good life,and I was lucky. I experienced what others didn't. Steve Jobs said, "The wealthI have won in my life I cannot bring with me. What I can bring is only thememories precipitated by love." In that sense, I am rich in experience. I liveda life without regrets. If I died now, I wouldn't have any regrets, except formy family. One of my wishes is to live a life of helping others, since so far, Ilived a life for myself."

Please say something before commencing your journey across Eurasia incommemoration of the 100th anniversary of the March 1st IndependenceMovement
"I don't have a grand wish right now. I just hope to complete my journey asplanned. The project is titled, "Exciting Journey to Build a Happy World."I hope many people will be encouraged by my journey and will find their ownhappiness."
Report by Jung Hye-yeon, grape06@donga.com
<This article was published in Weekly Dong-A, 1168th edition >
https://news.naver.com/main/read.nhn?mode=LSD&mid=sec&oid=020&aid=0003187385&sid1=001