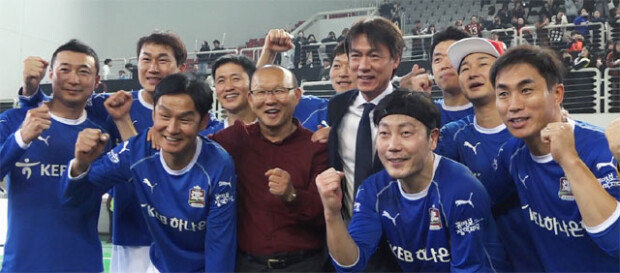 Vietnam's national soccer team manager Park Hang-seo has visited his home country. Park has been a sensational figure in Vietnam with his magical coaching capabilities with his "Papa" leadership.
Korean fans shouted in excitement as Park appeared at Hwajung Gymnasium in Korea University, Seoul, for "Share The Dream Football Match 2018," a charity soccer event sponsored by former Korean soccer player and national team coach Hong Myung-bo.
Park led the Vietnamese soccer team to win the AFF Suzuki Cup. Starting from Thursday, he has coached his players to prepare for the 2019 Asian Cup. Vietnam is scheduled to play a match with North Korea. Despite many works on his schedule table, he sought understanding of the Vietnamese Football Association before visiting Korea early morning Saturday.
The reason behind Park's visit is that he has a special relationship with Hong Myung-bo, who is serving as executive director at the Korean Football Association. In the 2002 Korea-Japan World Cup, Park served as a head coach while Hong led the team as captain, contributing to the country's joining of the semi-final. Since then, they have maintained a strong bond.
The South Korea-born coaching staff was awarded friendship medal by Vietnamese Prime Minister Nguyễn Xuân Phúc in recognition of his contribution to bilateral friendship between South Korea and Vietnam, following third-class labor medal.
"This year has been one of the luckiest for the team to achieve victory. Many people talk of leaving the position at the peak," Park said. "I am on my contract by next year. I could meet with greater luck or fall into the bottomless pit, but I'm determined to accept whatever happens."
Hong-Gu Kang windup@donga.com