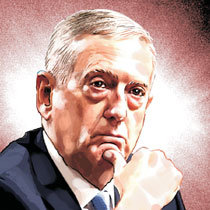 U.S. President Donald Trump likes military generals. At one point, his chief of staff, National Security Advisor, and Defense Secretary were all ex-military generals. Michael Wolff, the famous author of "Fire and Fury," said President Trump dislikes listening to what generals have to tell him though. Defense Secretary James Mattis, who is the only remaining general-turned aide to the president in the White House, offered to resign, saying, "Because you (President) have the right to have a Secretary of Defense whose views are better aligned with yours" in protest of Trump's decision to withdraw U.S. troops from Syria without any consulting with Washington's allies.
Bob Woodward's book "Fear: Trump in the White House" includes an episode in which Mattis allegedly called President Trump a fifth or six grader, when the president said, "We can sleep like a baby even without U.S. troops stationed in South Korea. Please bring all the troops stationed in South Korea back home." In fact, the resignation of Mattis, who was dubbed "the axis of White House adults" along with former National Security Advisor Herbert McMaster and former Defense Secretary Rex Tillerson, had already been predicted since long ago.
When tension between Washington and Pyongyang escalated to hit new highs in December last year, Trump reportedly planned to tweet "We are evacuating the families of U.S. troops," but "White House adults" including Mattis barely managed to stop him. Pundits say President Trump, who is keen on maximizing interests, would not have actually gone into war. He was a heartless real estate businessman who would cheat his own people if and when necessary to pressure the other party. Trump apparently attempted to use even his own tweets in pressuring Pyongyang, but this was not a business deal that would only cause small damage even if the deal fails, but a grave military issue that could trigger war if failed.
Even when the Syrian government used chemical weapons against civilians in the regions occupied by rebels, President Trump retaliated with mere missile attacks. He sent additional 3,000-strong troops to Afghanistan where the Taliban is expanding its forces anew, in a showy act, but is already considering withdrawing the troops. When offering to resign, Mattis told Trump that "Like you, I have said from the beginning that the armed forces of the United States should not be the policeman of the world. Instead, we must use all tools of American power to provide for the common defense, including providing effective leadership to our alliances." Amid a grim reality in the South Korea-U.S. alliance, in which Trump is demanding South Korea to further increase financial contributions, Mattis' words resonate strong with us.
pisong@donga.com