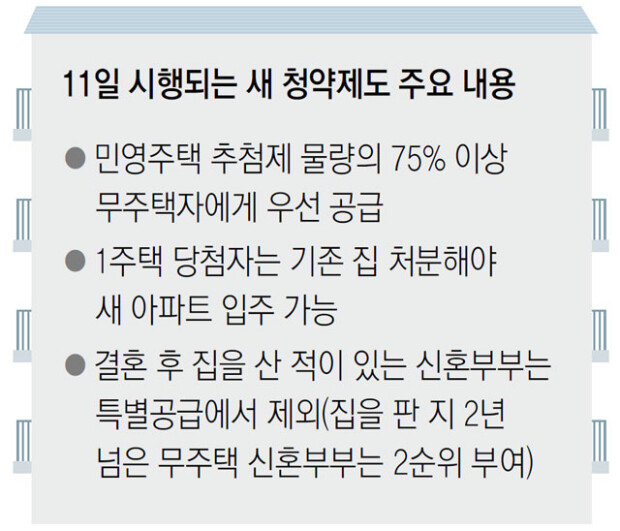 A new housing application system is initiated to give more chances of winning to those who don't own a home. Home owners will not be able to apply for purchase of an apartment unit unless they sell any house they own. Newly-weds, who have ever owned a house, are not subject to special home supply.
The Ministry of Land, Infrastructure and Transport on Friday announced such a revised ordinance regarding supply of housing units, which will take effect on Tuesday. Currently, a double system of adding points and lot-drawing is applied to private-run housing units, larger than 85 square meters, located in overheated housing markets including Seoul. Seventy-five percent of the total units for lot-drawing is allocated exclusively to those who do not have any home. Both those with any home and those without are eligible for the remaining units.
A home owner who has won the lot is supposed to sell the owned house within six months of the day available for moving in. Only when the owner sells the home that he has, can he move in. In the event of not selling any home, he or she is subject to three years or less in prison or 30 million won or less in fine. When a revised plan caused controversy due to excessive punishment, the ministry added a new clause that a private housing provider may terminate a housing supply contract if a relevant owner does not sell his or her home within six months.
Added to this, another clause has stirred controversy, which says that newly-weds, who have ever had a house, are not subject to special housing supply. In response, the ministry confirmed that newly-weds can be assigned secondary ranking for special housing supply, if they sell their house and finish registration procedures before Tuesday and they have not had any house more than two years. Those with ownership of a lot are not categorized as those who do not have any home.
Starting from February next year, developers can file prior applications in the first-come-first-served way or by lot-drawing on an online housing application system, given some possibility of units unsold or uncontracted. This measure is aimed at preventing people from earning an ownership of units uncontracted by waiting in line in front of sampling houses. The new housing application system is applied to apartment complexes that will recruit house owners starting from Tuesday.
Meanwhile, the duration of restriction on monopoly of sale on apartment units in public parcels, located in the metropolitan area, where the parcel price is capped, will be extended to eight years at maximum. Also, residents at public tract houses are supposed to reside up to five years.
Ae-Jin Ju jaj@donga.com