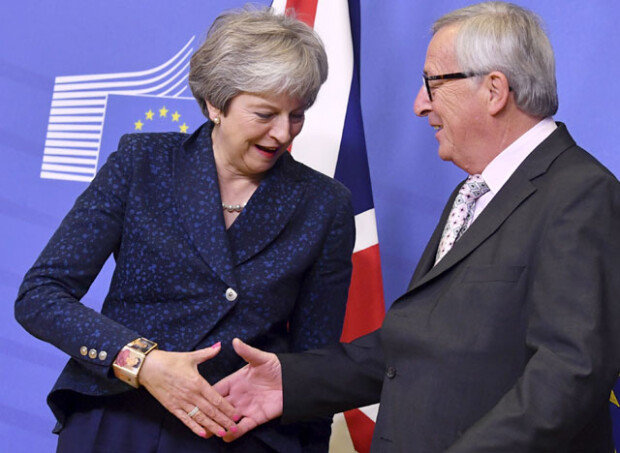 The U.K. signed off on Sunday its Brexit deal 45 years after joining the European Economic Community, the predecessor of the European Union, in 1973.
British Prime Minister Theresa May held a summit with all 27 European Union leaders at the EU headquarters in Brussels, Belgium on the day and signed the Withdrawal Agreement and Political Declaration on the future European Union-U.K. relations. The U.K., which decided to exit the EU via a national referendum in 2016, has been holding Brexit talks since June last year. The U.K. will officially leave the EU effective March 29, 2019.
According to the 585-page agreement, the U.K. will exit the EU by paying 39 billion pounds in "divorce bill" and will undergo a transition period through the end of 2020. Until then, U.K. and EU citizens can freely travel across the border just as they presently can, while the U.K. will follow the EU rules and institutions but will not be allowed to participate in the EU's decision-making process.
The U.K. and the EU signed the agreement but both sides have to overcome a number of hurdles in the course of the deal's ratification. The British government cannot guarantee that the agreement will earn parliamentary ratification. Prime Minister May should win at last 320 votes, but her coalition government will find it difficult to secure the 326 seats due to opposition by Brexit hard-liners within the ruling party, and Northern Ireland's Democratic Unionists that also form the coalition.
According to the BBC, 81 parliamentarians of the ruling Conservative Party have already expressed clear opposition to ratification. Opposition parties including the Labor Party, the Liberal Democrats, and the Scottish Independence Referendum Party openly oppose the agreement as well. Unless the Brexit Agreement is ratified by March 29 next year, both the U.K. and the EU will face major chaos due to so-called "No-deal Brexit" as the U.K. will exit the EU without any agreement.
Jung-Min Dong ditto@donga.com