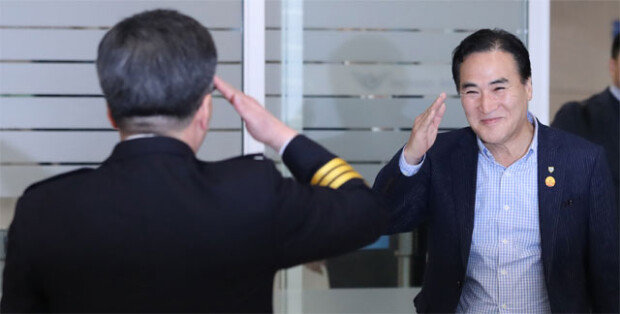 "Since I am the president of the global Interpol, I will not be in a position to more carefully take care Korean issues alone," said Kim Jong-yang, the first Korean to be elected president of International police agency Interpol. "But I expect that I will be able to help in extraditing Korean fugitives at large overseas." Upon arrival at Incheon International Airport on Friday morning, the 57-year-old former commissioner of the Gyeonggi Provincial Police Agency made the remarks at a press conference held to celebrate his election.
The new Interpol head singled out narrowing the gap in public security capabilities among the 194 Interpol member countries as his top priority during his term in office." When the systems of Interpol member countries' police authorities are at comparable levels, cooperation and collaboration can be done properly," Kim said. "Since crimes are increasingly sophisticated, one of Interpol's roles is to introduce advanced crime prevention technologies and systems and share them with member states."
"I feel proud that I have entered the international stage on behalf of the Republic of Korea police to win fresh recognition," Kim said. "I believe (my election) is a result of the government's keen interest and the Korean police's unwavering support, coupled with tireless efforts exerted by the 14 members of the Korean delegation, who helped my campaign."
Kim has been serving as acting Interpol president since last month as his predecessor Meng Hongwei was arrested by Chinese authorities due to corruption charges and resigned. Interpol president has a four-year term, but Kim will serve the post for his predecessor's remaining term of office through November 2020.
Kim graduated from Korea University with a degree in business administration in 1985, and passed the 29th high civil-service exam, before joining the Korean police through a special recruitment program for high civil servants in 1992. He is an expert in international affairs in the Korean police, who served as the police attaché to the Los Angeles consulate office, and head of the nuclear security planning team, and chief of the international affairs under the National Police Agency.
yea@donga.com