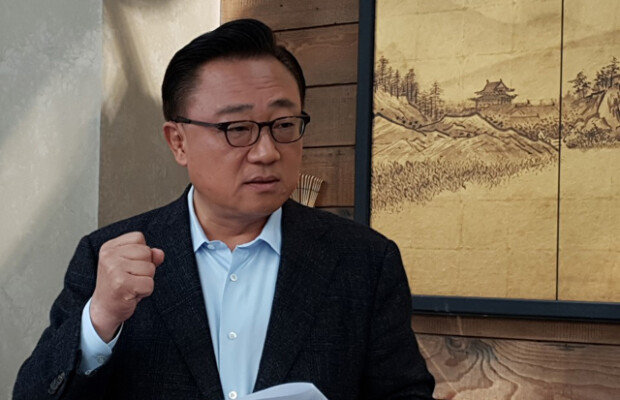 Samsung Electronics showcased the display of its first foldable phone at the Samsung Developer Conference 2018 in San Francisco on Wednesday. At a press conference in San Francisco on Thursday (local time), Samsung Electronics' IT Mobile Division President Ko Dong-jin announced that the company will launch a foldable smartphone in the first half of next year.
"The first batch of our foldable phone will exceed one million units. If the market responds positively, we would produce even more," Ko said. "The reason we are showcasing the display of the phone at the SDC is because our foldable phone is already at the point of being commercialized. We overcame a lot of hurdles such as making the fold line invisible and the only step left for us is to implement the details of user interface."
"To create excellent consumer experiences, we need to work with other companies such as Google," Ko said. "I met with Google CEO Sundar Pichai two months ago and set up a task force together." He emphasized foldable phones need innovation in software as well as hardware such as display and batteries to succeed.
The electronics industry is closely watching if foldable phones could revive the sluggish global smartphone market as Chinese startup Royole and Samsung Electronics unveiled their foldable phones. According to global market research company Counterpoint Research's report published early this month, the smartphone market grew by 1.3 percent this year, which is the first negative growth. The smartphone market has grown 16 percent every year for five consecutive years, but its growth is coming to a halt.
As Samsung showcased more upgraded version than the Royole FlexPai and earlier than Huawei, some make hopeful projections that foldable phones will be the new game changer to compete against Chinese phone makers.
Ji-Hyun Kim jhk85@donga.com · Tae-Ho Hwang taeho@donga.com