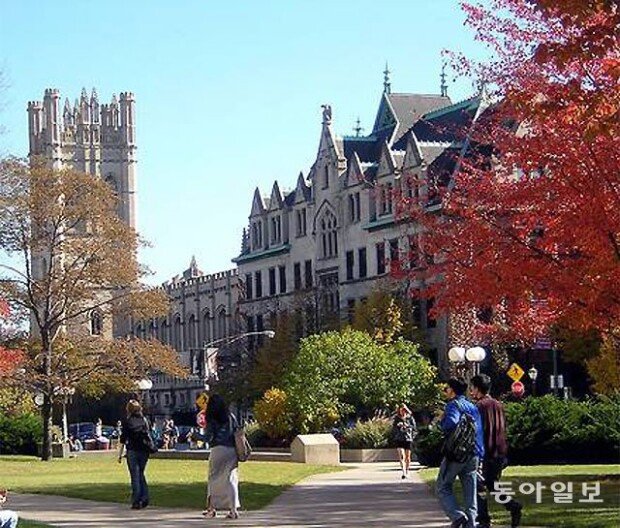 The Latin motto of the University of Chicago, written above its mascot phoenix in a badge, is "Crescat scientia: vita excolatur," which means "Let knowledge grow from more to more, so be human life enriched." Living up to its motto, the University of Chicago is known for being tough to get through even among prestigious universities, training its students through intense courses. Probably it is such learning environment that gave the school one of the highest concentrations of Nobel laureates.
Having produced many Nobel laureates in Economic Sciences, the University of Chicago also pioneered the Chicago school of economics. Friedrich Hayek, who worked as a professor from 1950 to 1962 and best known for his defense of classical liberalism, received the Nobel Memorial Prize in Economic Sciences in 1974. In 2013, Eugene Fama and Lars Peter Hansen shared the prize, and Richard Thaler was awarded the prize last year, all of whom are the university's faculty.
Yet, it is not that the city only has a bright side. Public safety is increasingly threatened this year, to the point that President Donald Trump recently said that "I have directed the Attorney General's office to immediately go to the great city of Chicago to help straighten out the terrible shooting wave. I've told them to work with local authorities to strongly consider stop-and-frisk," during his remarks at the International Association of Chiefs of Police Annual Convention in Orlando, Florida. This year alone, 389 people were killed and 1,984 people were injured due to gun violence in Chicago.
In early August, the rash of shootings occurred in the city over the weekend from Aug. 3 to Aug. 6, killing 12 people and leaving some 50 citizens injured. The gang's mass shootings hurt innocent citizens. Only 10 days after the tragic weekend, another wave of shootings took place on Aug. 17 and 18, taking the life of at least three people and leaving some 20 people injured. Chicago is a city where former President Barack Obama started his political career and delivered his farewell address. The city is also expected to host the Barack Obama Presidential Center. However, the city's glory of having produced many Nobel prize winners pales before an evil reputation that it has earned with frequent gun violence.
Chin-Ku Lee sys1201@donga.com