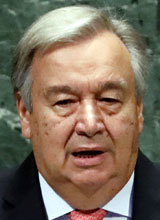 According to Voice of America's reports on Wednesday (local time), United Nations Secretary-General António Guterres commented on North Korea's human rights situations, referring to a UN report dated Aug. 6 that was submitted to the 73rd United Nations General Assembly held in its New York headquarters. He mentioned that North Korean political camps are the breeding ground for torture and abuse, leading to great concerns over North Korea's violation of human rights, and that simultaneous efforts are to be made to ensure peace, stability, prosperity and human rights, VOA reported.
The U.N. chief made remarks on the current situations of the Korean Peninsula in the report, assessing that a series of diplomatic efforts has paid off this year, lessening tensions gradually and opening up political channels, which marks a contrast to last year when the region was threatened by the North's nuclear testing and missile launches.
He also said that since the two Koreas jointly marched at the opening ceremony of the 2018 Pyongchang Winter Olympics on Feb. 9, a series of talks including the inter-Korean senior-level meeting, the inter-Korean summit in April, and the U.S.-North summit in June have been held. The U.N. chief added that he welcomes the North Korea's pledge to reduce military tensions, discuss denuclearization, and hold reunions of the separated families.
Nevertheless, the U.N. secretary-general pointed out that such political improvements have made it all the more urgent and necessary to materialize advances in North Korea's human rights, thus calling on relevant countries to discuss North Korea's human rights issues on the negotiating table for denuclearization and other peace-building issues.
Meanwhile, Mr. Guterres pushed the North to resolve the issues of six South Koreans detained in North Korea for a long period of time, 516 South Korean abductees since the Korean War, and Japanese detainees. Also, he mentioned that the Office of the United Nations High Commissioner for Human Rights, the United Nations, the United Nations General Assembly, and the United Nations Security Council alike will continue to work on the issue to raise social awareness of humanitarian efforts and improve the human rights situations in North Korea.
Taek Kyoon Sohn sohn@donga.com