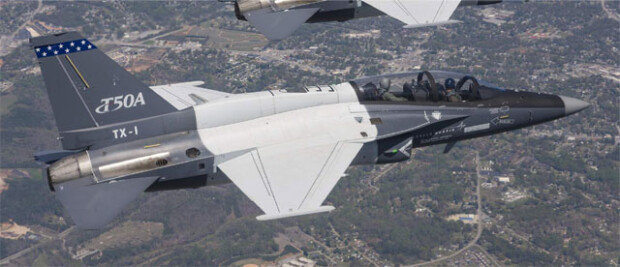 Korea Aerospace Industries (KAI), Korea's aircraft manufacturer, has lost a huge contract to build military training aircraft for the U.S. Air Force. The defeat is expected to thwart its plans to expand exports and turn things around at the company, which has been embroiled in corruption scandals and controversies surrounding defective Surion models.
The U.S. Air Force announced Thursday (local time) that it selected Boeing-Saab consortium for its Advanced Pilot Training (APT) project over the KAI-Lockheed Martin Corp. consortium as the former submitted the lowest price.
The KAI consortium had pitched to supply the T-50A for the competition, an improved version of the training aircraft T-50, while Boeing offered the N-381.
The Boeing consortium pushed ahead with the strategy of an unbeatably low price. "We participated in the bid with a strategic price, but were turned down due to Boeing's low bid," KAI said in a statement.
The U.S. Air Force originally planned to spend 16.3 billion dollars (around 18 trillion won), and Boeing submitted the lowest price of 9.2 billion dollars (around 10.2 trillion won). "The KAI consortium struggled to lower the bidding price by reducing the cost of production, but Boeing seems to have resolved to propose a low price considering the project's possible long-term effects including derivative businesses," said an industry observer. The Pentagon contract is expected to lead to another project of the U.S. Navy to build next-generation airframes (worth around 33 trillion won) and the development of export markets in third countries (worth around 50 trillion won), eventually growing worth around 100 trillion won.
Observers say that Pentagon's decision was affected by U.S. midterm elections slated for November. "More than 90 percent of Boeing's offering will be made in America, supporting more than 17,000 jobs in 34 states," the U.S. aircraft manufacturer said in a statement, which is in line with U.S. President Donald Trump's "America First" policy.
The KAI consortium, if awarded the contract, had planned to manufacture key parts including fuselages in Korea while assembling them into final products in Lockheed Martin's facility in South Carolina, the United States.
Eun-Taek Lee nabi@donga.com