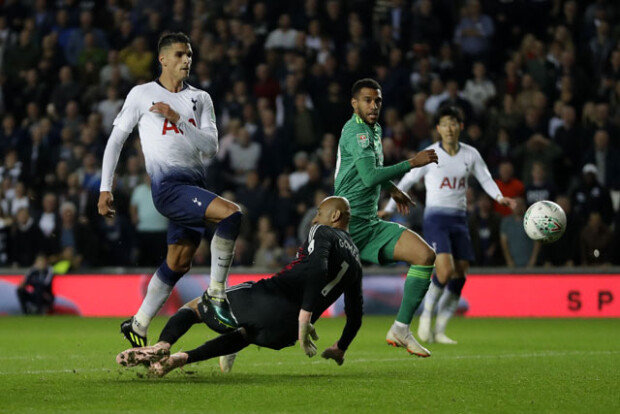 Son Heung-min, the 26-year-old ace of the Korean national team, is struggling to secure a footing as starter in his English club Tottenham Hotspur.
On the Hotspurs' Thursday match against Watford for the Carabao Cup, Son was substituted in the 19th minute of the latter half when his team was losing 0-1. While the South Korean contributed to Tottenham's eventual 4-2 win in a shootout by opening the first shootout goal for his team, Son failed to find any field goal in the game. In fact, Son Heung-min has not scored any goal during his recent five appearances in regular season including the Liverpool match on September 15. Earlier this season, Son missed three EPL matches owing to his participation in the Jakarta-Palembang Asian Games, and in the meantime, Erik Lamela and Lucas Moura, Son's same-aged peers, are getting increasingly ample chances to show off their plays.
Lamela scored a crucial goal in the 41st minute Thursday when the two teams were tied 1-1. Son Heung-min boasted agile movements and pinpoint shots in the left side, serving as a facilitator of Tottenham's attacks. Son earned a rating of seven from Sky Sports, a British sports channel, following Toby Alderweireld, who earned the best rating of eight among the Hotspurs. But his role as a "goal-getter" was considered not up to snuff.
In the past five seasons, Son has always managed to net his season opener in September. During the 2016-2017 and 2017-2018 seasons, when he scored two-digit numbers for two consecutive seasons, the South Korean found the net on September 11 (EPL fourth round) and September 14 (UEFA Champions League group stage), respectively. This season, however, the only chance for him to score his "September opener" will be EPL seventh round against Huddersfield Town on Saturday.
Experts ascribe Son's goal drought to exhaustion of stamina. Following the Asian Games, Son played in two national team matches in September, undergoing a truly grueling schedule. On Thursday, Hotspur manager Mauricio Pochettino expressed his trust in Son, praising him for shifting the atmosphere of the game, but he has not put Son in starters' line-up to restore his stamina. Lack of stamina can lead to declining concentration and weak finishes.
Pochettino is increasingly hiring Moura and Lamela as left winger, Son's favorite position. Known for his strong dribbling skills, Moura has score three goals during Son's absence, the highest scoring along with Harry Kane. Lamela has also scored three goals in five matches this season, two in regular season and one in the Carabao Cup. Three goals are the same as the total scoring Lamela has achieved over the past two seasons in the league, presenting the Argentine an opportunity to rewrite his career high.
"For now, the most attractive composition for Pochettino would be Kane's scoring, Eriksen's pass, Alli's dribbling, and Moura's dashing, who is in prime form lately," said Han Joon-hee, a football commentator of KBS. "In addition, Lamela, a versatile midfielder with relatively fine defense skills, is proving that he can score goals as well," he added. "This makes Son's season opener an even more urgent task. In terms of shooting and scoring abilities, Son is definitely stronger than Moura or Lamela. Son joined the league a bit late this season, so the early season might be tough for him."
Jae-Hyeng Kim monami@donga.com