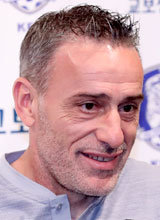 The first squad led by Paulo Bento, the new head coach of the South Korean national football team, will be unveiled. The 49-year-old former Portuguese footballer is going to have his debut game as manager of Team Korea against Coast Rica at 8:00 p.m. on Friday at Gyeonggi Goyang Stadium.
Experts say the game will demonstrate Bento's "football philosophy" that he envisions for his new team. Having convened the team on Monday for the first time, Bento stressed the importance of quick shifting between offense and defense and higher work rate of midfielders. It is also drawing a keen attention whether the high momentum from the 2018 Jakarta-Palembang Asian Games will be maintained.
With an overall record of 3 wins, 2 draws, and 3 losses against South Korea, Costa Rica is ranked 32nd in the FIFA World Rankings, 25 higher than South Korea (57th). Keylor Navas, the Costa Rican goalkeeper of Real Madrid, has been excluded from the line-up of his national team this time.
Most of the players who competed in the Russian World Cup as well as the heroes of the Asian Games gold medal such as Son Heung-min and Hwang Ui-jo will be getting into a competition to become the new manager's favorites. The national team will also have their second game under the new leadership with Chile on Tuesday at Suwon World Cup Stadium.
Jae-Hyeng Kim monami@donga.com