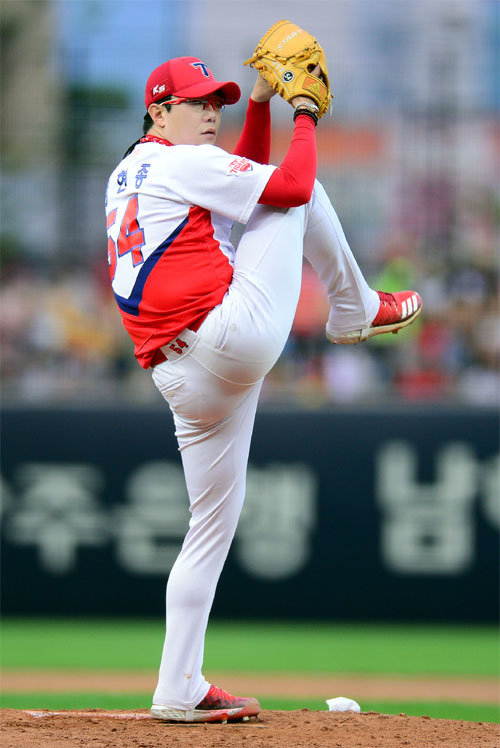 At the 2018 Jakarta Palembang Asian Games, Kia Tiger's left-hander Yang Hyeon-jong pitched 12 innings, the most among the South Korean pitchers. In a final match against Japan, he took the mound as a starter and held Japan to only one hit over six innings. Given that South Korean batters could only muster four hits in the gold medal game, it is not an exaggeration to say that Yang led the team's 3-0 victory.
Returning home on Monday, Yang now has the immense pressure on his shoulders to drive his team up in the KBO league standings. As of Monday, Kia Tigers stood at the 8th, only 2.5 games behind LG Twins in the 5th place. In a neck-and-neck competition to advance to the post season, Kia would obviously have high expectations for its franchise pitcher Yang.
Yang's workload tells that he is the team's ace pitcher. Over the past five years, the left-hander pitched 906 1/3 innings, the most in the KBO league. In 2016, his IP during the regular season recorded over 200 for the first time.
Too many pitches lead to continued fatigue. Yang finished the 18 games of the first half season with a 3.48 ERA, but the figure rose to 4.84 in the six games of the second half season. For this reason, some argue that Yang needs to control the number of pitches he throws.
The thing is that apparently, Kia Tigers cannot afford to let him take rest. Hector Noesi, who tied for the league lead with 20 wins with Yang last year, has been going through the deepest slump this season with 9 wins, 8 losses, and a 4.63 ERA. Pat Dean, who started the season as a starter, also had to spend time in the bullpen. Kia's bullpen pitchers including Kim Yun-dong and Im Ki-jun currently have an average ERA of 6.10, the 9th in the standings. With starters and bullpen pitchers having underperformed, the team has come to naturally depend more on Yang, who is scheduled to start six or seven more games during the rest of the season.
Yang could take some rest on Tuesday when his team had a game against Doosan Bears in Jamsil. After having a rest at home, he is set to start some simple training on Wednesday to check up on his condition. "Every single game counts going forward. I want to wrap up the season well with young fellow players," said Yang in an interview right after coming back to Korea. It remains to be seen whether he will be able achieve his goal and complete the season safe and sound.
yesbro@donga.com