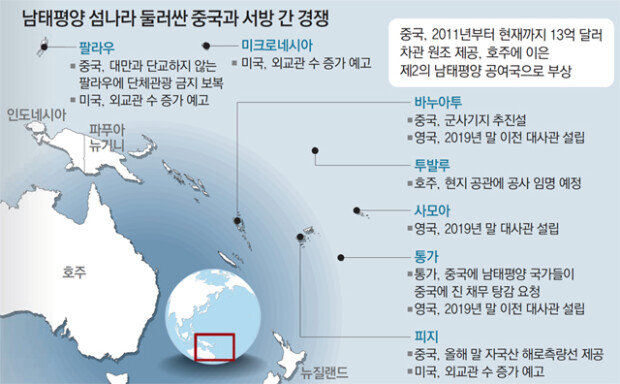 The amount of loan and financial support China has provided in eleven neighboring island countries in South Pacific including Papua New Guinea, Fiji, Samoa, Vanuatu and Micronesia from 2011 up until now is some 1.3 billion U.S. dollars. This is the second biggest scope following Australia, which is the neighbor of these South Pacific countries. After China will reportedly push forward the construction of military base in Vanuatu, a small country in the South Pacific, this year, it has been also known that China will provide sea route survey ships made in China to Fiji at the end of this year. It is the first time for China to provide military support to South Pacific countries.
Reuters reported on Wednesday that Western countries including the United States, Australia, France and England, which are shocked as China expanded its clout against South Pacific countries, are planning to increase diplomatic offices and human resources in South Pacific countries. The United States, Australia and New Zealand promised to expand their economic support on these South Pacific countries.
The United States plans to increase the number of diplomatic human resources seconded to Palau, Micronesia and Fiji. The Australian government, on the other hand, has decided to appoint a diplomatic minister at the diplomatic office in Tuvalu for the first time. England will establish a diplomatic office in Vanuatu, Tonga and Samoa before the end of 2019.
French President Emmanuel Macron is said to hold a summit with leaders of the South Pacific countries at the beginning of next year. "Countries in the South Pacific Regions should be aware that there are options other than China," a U.S. government official told Reuters. "They need to be aware that they will face an after effect for the debt they have on China."
China and Western countries all have an eye on expanding their influence on South Pacific countries, which have voting rights like any other countries in international organizations such as the United Nations, albeit their small size, and enjoys ample marine resources.
Wan-Jun Yun zeitung@donga.com