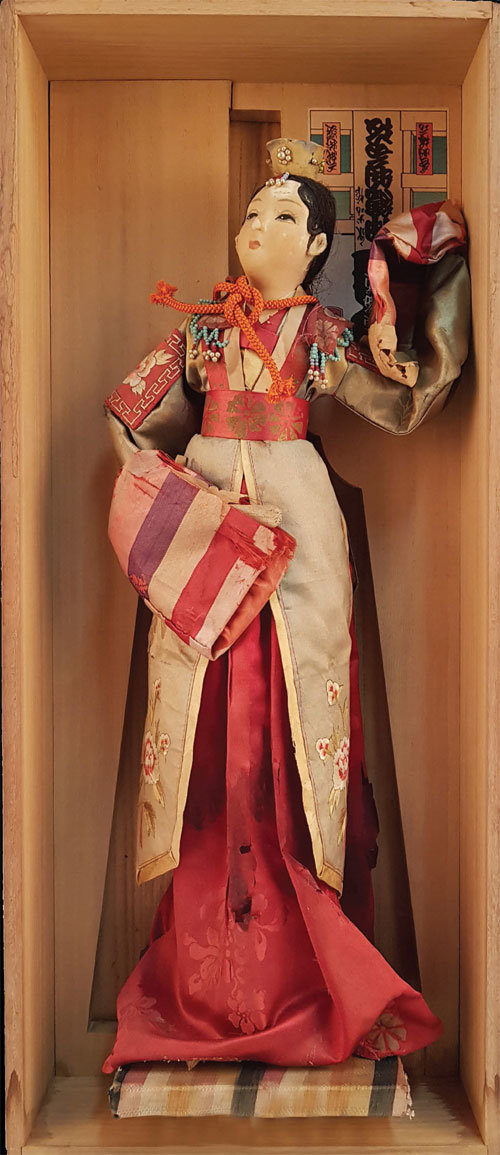 The "Dong-A Auction," which is setting the trend of classical culture in the Korean auction market, will be held for the third time at the Dong-A Auction Gallery in Seoul at 3 p.m. on September 12. The Auction, which is sponsored by The Dong-A Ilbo, attracted the attention of culture aficionados as hundreds of artworks were sold out at its first and second auction held in March and June, respectively, this year.
A variety of dolls that show the history of Korean dolls throughout the past 100 years from the enlightenment period to today are catching the eyes of many. Items submitted for the auction range from simple dolls, which were purchased by foreign missionaries as a gift in the late period of the Joseon Dynasty, to fancy paper and wooden dolls, which were usually used for interior decoration during the Japanese colonial era.
In particular, a lady doll called "Dancing Lady," which was produced in 1929 and is dressed in traditional clothes of the Joseon Dynasty, is aesthetically valuable. Most of the dolls were made of cloth or wood during the 1920s and 1930s. On the other hand, the Dancing Lady is made of synthetic resins, which was the most advanced technique during the times. On the outside of the box containing the doll read "JOAK (Tokyo Broadcasting Station)," suggesting that the doll was donated by the Gyeongseong Broadcasting Station during the Japanese colonial era.
Other items include an autograph letter of independence fighter and anarchist Park Yeol (1902-1974), whose life was captured in a film last year, the only music textbook that contains the national anthem among the textbooks published during the Korean Empire, and the first cosmetics product in Korea "Parkgabun."
The Dong-A Auction holds a permanent exhibition of the auction items so that those who are interested in them can see them for themselves. The items will be displayed at the Dong-A Auction Gallery, which is located on the 18th floor of the Dong-A Ilbo building in Chungjeongno, central Seoul, until September 5 and until 2 p.m. on the auction day. The Auction also opened an online site (www.dauction.kr) on Monday so that people can participate in an auction at any time throughout the year.
Won-Mo Yu onemore@donga.com