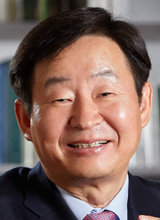 "Wood has been an important construction material since the birth of civilization, but the industrial revolution led to a trend where buildings are made mostly with concrete and steel frames. Yet, wood is now drawing attention again as a safe construction material against natural disasters and global environment issues."
"This conference has an extraordinary meaning for South Korea, where the field of wooden architecture has remained unexplored," said Lee Chang-jae, president of the National Institute of Forest Science, host of the 2018 "World Conference on Timber Engineering" held at COEX Convention & Exhibition Center in Seoul from last Monday to Thursday.
The conference is the world's premier forum where scientists and construction experts in wood and timber design, engineering, and construction can get together and discuss the latest developments, technologies, and innovations.
"At the conference, many experts said in unison that buildings made of wood would make a residential environment safer and nicer than those made of concrete or steel," said Lee. "Also to cut carbon dioxide emissions which cause global warming, timber engineering has become a construction trend we can no longer disregard."
Cases were also introduced at the conference in which an 18-story, 53-meter-high college residence hall was made of wood in Canada last year and a 24-story multipurpose building is being constructed with timber in Austria. In addition, Japan is building what would serve as a main stadium of the 2020 Tokyo Olympics with wood, while the United States and the United Kingdom are planning to establish wooden skyscrapers with over 70 stories.
Ki-Jin Lee doyoce@donga.com