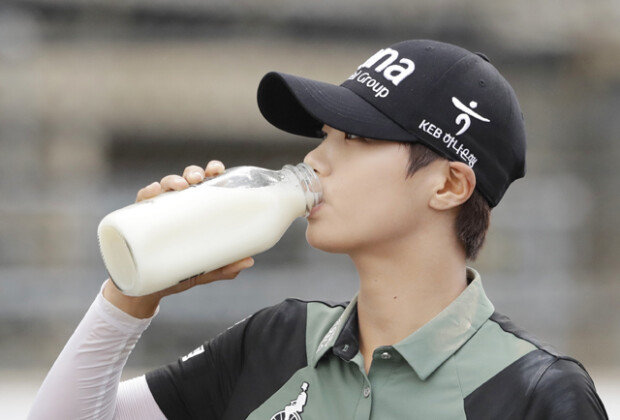 It was not her favorite chocolate milk, but she gulped down the sweetest-ever milk. South Korean golfer Park Sung-hyun raised her third trophy for this season in LPGA tour events. As she is known for her uniqueness, the 23-year-old enjoyed a very special congratulatory ceremony where she took a sip of milk as tradition dictates.
Park won the Indy Women in Tech Championship at the Brickyard Crossing Golf Club (par-72) on Sunday after competing in a sudden death playoff. The golf club is adjacent to the Indianapolis Motor Speedway where the Indy 500, a U.S. famous car-racing event, opens. Since last year when the LPGA tour event took place for the first time here, the champion has taken a swig of milk, and later the milk bath as the winners of the Indy 500 have done traditionally. Tradition began with Louis Meyer who won the Indy 500 for the third time in 1930. Since 1956, the tradition has become part of the official event every year supported by the U.S. dairy industry. Although taking a sip of milk in celebration of her victory, Park said no to a milk bath. Last year's champion, Lexi Thompson, did pour milk over her head.
How the South Korean golfer achieved her victory was as unforgettable as her celebratory ceremony with milk. Having shared the lead, Lizette Salas missed a birdie putt from 2 meters at the 18th hole during the final round of the game, allowing her South Korean competitor to narrow the gap by four strokes. Park finished the final round at 23-under-par, luckily making her way into a sudden playoff.
In the playoff at the 18th hole (par-4), Park swung a 3-wood for a tee shot. Putting a 54-yard wedge shot to within 1.5 meters, she made a successful birdie putt, beating Salas to become the winner of the game.
Jong-Seok Kim kjs0123@donga.com