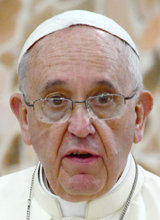 The Vatican, which has kept silent about sexual abuse of 1,000 children by 301 American priests over the past 70 years, expressed "shame and sorrow" on Thursday (local time). It has been two days since the Pennsylvania grand jury report on priest sex abuse was released.
"The Holy See condemns unequivocally the sexual abuse of minors," said Vatican spokesman Greg Burke in a statement released through the Vatican News (vaticannews.va). "The abuses described in the report are criminal and morally reprehensible," he said. "Those acts were betrayals of trust that robbed survivors of their dignity and their faith."
Burke pointed out that most of the accusations included in the grand jury's report occurred before 2002, when the U.S. Catholic bishops adopted new policies designed to promptly report a crime and remove accused clergy from office. "Catholic Church reforms in the United States drastically reduced the incidence of clergy child abuse," Burke said.
CNN reported that sexual abuse by Catholic priests around the globe has impaired the Pope's reputation.
Taek Kyoon Sohn sohn@donga.com