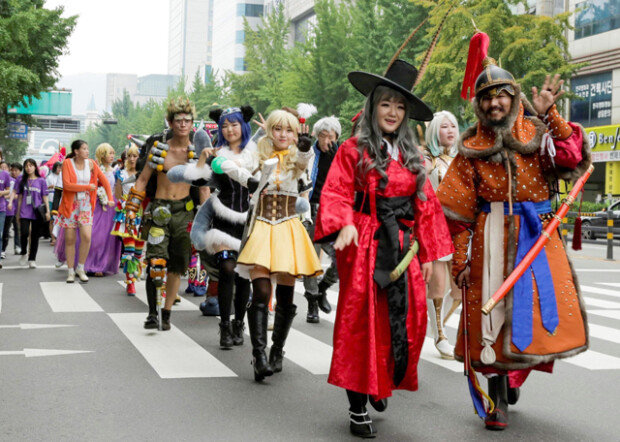 An animation dubbing concert, shows with original sound tracks (OST), comics fashion shows, virtual reality (VR) drawing shows, and costume plays.
These are only some of events to be held celebrating the largest comics festival in Asia. The 21st Bucheon International Comics Festival (BICOF) will run from Aug. 15 to 19 in Bucheon, Gyeonggi Province, near the Korea Comics Museum and Koryo Hotel in Gilju-ro. The festival officially kicks off at 6:30 p.m. Wednesday with a red carpet event and an opening ceremony at a stage installed in the camping area of "The Age of Wild Men" in Bucheon Visual Culture Complex. The 2018 Bucheon Manhwa Award Ceremony, the comics fashion show of fashion designer Lee Sang-bong, a VR drawing show, and fireworks are set to take place to open the festival.
At the festival's park zone, comix zone, and food zone, amusement parks for children, comic book stores where one can read books on mats, water theaters, and water libraries will be installed. In addition to joining a number of unique cosplayers, visitors can also enjoy street performances such as belly dance, band music, and accordion players.
At the theater of the Korea Comics Museum, films "Along with the Gods: The Last 49 Days," "Plan Egg," "King of Prism," "Adulthood," and a talk show "What's up, comics maniac" will be featured. For the opening screening on Wednesday, there will be a session where Joo Ho-min, a webtoon illustrator who wrote "Along with the Gods" series, will have talks with the audience on stage.
Meanwhile, three exhibitions, "Litmus," "Paris of Picasso," and "Ah, I left myp purse" in which some 10 Korean and French cartoonists present their works will be held on the first and third floor of the museum during the festival. At a special exhibition within the food zone, an exhibition based on author Nam Dong-yun's cartoon for children titled "A ghost teacher and real children" will be held where visitors can watch and experience horror stories.
Hee-Jae Park min07@donga.com