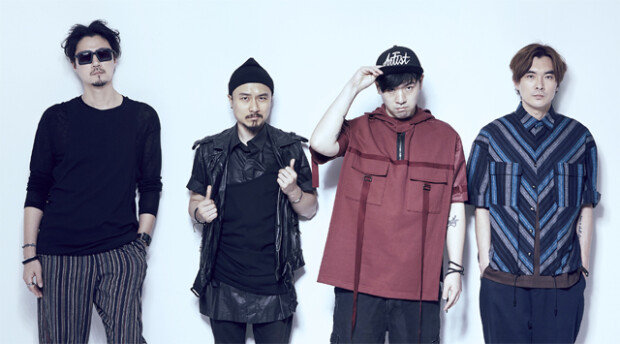 "It hits the spot," one would contentedly say when slurping hot broth.
This is exactly how it feels to listen to their music. A new band of four "H a lot" recently released their first album with the same title as their band name, filled with hot rock sounds that feels like taking a shower in icy cold water. The group's name "H a lot" may refer to being pretty "hot."
"It's actually because we all have an alphabet H in our name," said Choi Jae-hyeok, the band's drummer.
While H a lot is a newly formed band, each member makes the band seem like the Avengers in South Korea's indie music field. Choi Jae-hyeok (Deli Spice, Jambinai), Han Jin-yeong (My Aunt Mary, Yellow Monsters), Ryu Jeong-heon (Coremagazine), and Jo Gyu-hyeon (Reflex) are all known as the so-called "VIPs" in the field.
Jo Gyu-hyeon (vocal, guitar), 32 years old, still vividly remembers the moment when Choi Jae-hyeok, who is a dozen years older than him, proposed to join the team last fall. "I unconsciously sprang to my feet and bowed while gripping the phone as I was startled to hear from someone I've always admired from afar," said Jo.
As he decided to join the team, Jo was determined not to be "intimidated by other members" who have more experiences, but it turned out that he did not have to. "If I say the teams I was with in the past were based on a presidential system, H a lot can be likened to a parliamentary system," said Jo, adding that the team is the most democratic ever. "It's because Gyu-hyeon is so good at completing melodies or code progression drafted by other members," said bass guitarist Han. "We used to look at music from different angles at first, but our obtuse angle has been gradually narrowed to an acute angle," said Jo.
"If You Ask Me" is a title song dedicated to the Korean national football team, which had been expected to lose all group matches prior to the beginning of the Russia World Cup. The lyrics say "If you ask me/ I'll not be able to say anything/ But I'm not ashamed." The sharp voice of Jo is supported by rock sounds similar to raging waves.
Four "H"s are now entering a stadium, having found a golden ratio between the bursting energy of punk rock and the sensibility of modern rock.
H a lot will hold a performance celebrating the release of its first album at the Platform Chang-dong 61 in Dobong District on Sept. 1.
imi@donga.com