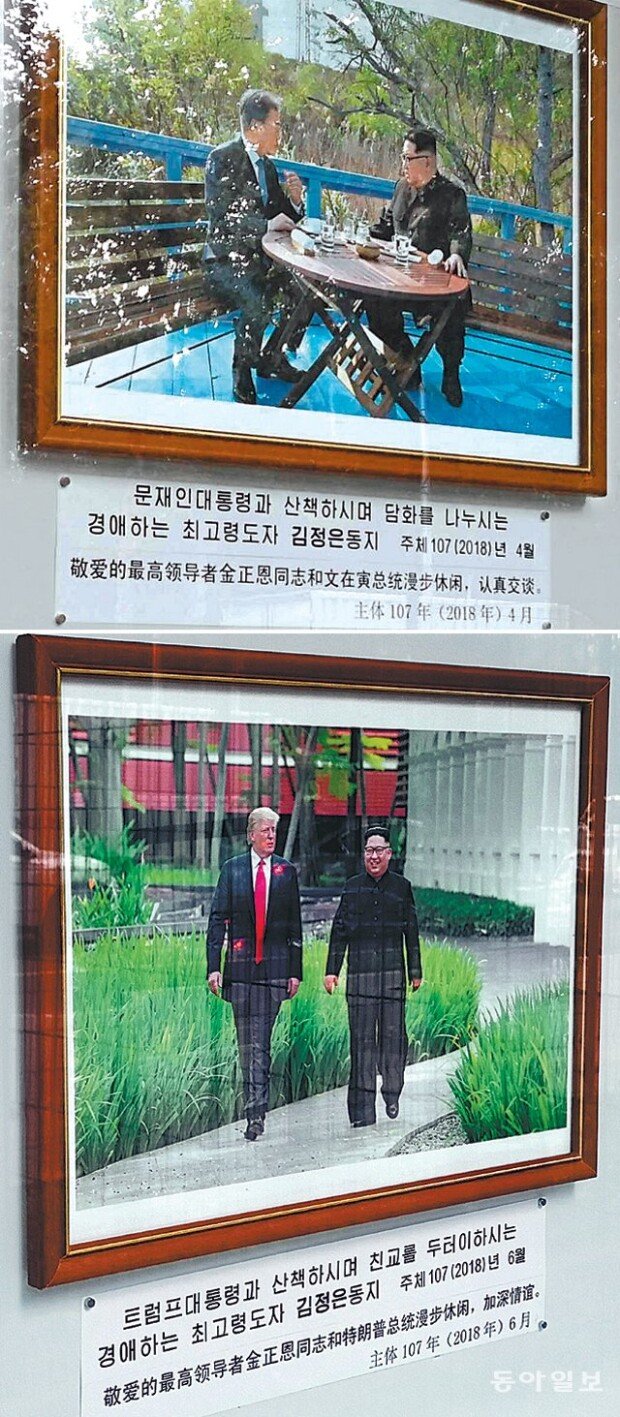 The North Korean Embassy in Being, China has posted pictures of South Korean President Moon and U.S. President Donald Trump on its outdoor bulletin board where its political propaganda has been promoted so far. Unprecedentedly, it has photos of South Korean and U.S. leaders displayed on it.
On the reporter's visit to the North Korean Embassy in Chaoyang District, Beijing, four photos of President Trump were seen posted on a large message board standing right to the main gate. One picture of them depicted President Trump shaking hands with North Korean leader Kim Jong Un at the U.S.-North Korea Summit in June while others showing him signing a joint statement during the summit. In particular, a picture of the two leaders talking to each other while walking, has a caption below, which says "Great Leader Kim Jong Un strengthening mutual friendship while strolling with U.S. President Trump."
On the left side of the bulletin board were four photos of President Moon. The three of them were taken during the April inter-Korean summit, while the rest during the May talks, which all captured the president accompanied by his North Korean counterpart. Mutual concord and harmony between the two Koreas were emphasized in the photos of the two Koreas' leaders talking to each other sitting on a bench while on a stroll over a pedestrian bridge, and of the two heads of state and their consorts in a pose.
The pictures were posted at the North's embassy building in China around July 27, which marked the 65th anniversary of the Korean War Armistice Agreement. It is interpreted that North Korea intends to stress its status as a legitimate state by highlighting its amicable relations with others. A source in Beijing has explained that the photos were posted in the North's efforts to get out of isolation in the international community
Oh-Hyuk Kwon hyuk@donga.com