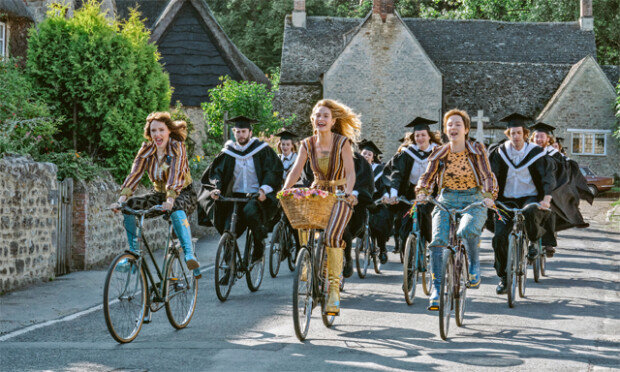 The movie simple doesn't allow you to stay still to the last minute of the running time. You will find yourself drumming your fingers and mouthing the famous ABBA songs before finally losing inhibitions and moving your shoulders up and down to the tune of "Dancing Queen." A sequel to Mamma Mia, which amassed 600 million dollars of global box office in 2008 and gathered 4.57 million moviegoers in South Korea alone, has come back in 10 years.
The story of the latest sequel, Mamma Mia: Here We Go Again, starts in 1979 when Donna (Meryl Streep), the female lead of the story, graduated from college. Then the film traces back on how Donna flees to a Greek island where she meet the three men of her life.
Sophie, Donna's daughter played by actress Amanda Seyfried, has remodeled her mom's hotel the "Hotel Bella Donna" to make Donna's dream come true. The two stories of Donna and Sophie are overlapped with an apparent emphasis on Donna's dream, but they eventually converge with the process of childbirth, a nature's wonder that connects the mother and daughter in the story.
Donna finds out about her pregnancy after all her friends and lovers have left her. While Donna needs help from villagers for childbearing, but she sings about how happy she is. The emotion of the movie peaks out when Sophie also learns about her pregnancy and confesses that she feels closer to Donna than ever.
Richard Curtis, a director of the movies "About Time" and "Love Actually" and a writer of "Notting Hill," participated in writing the scenario for the new Mamma Mia sequel. The male cast from the previous movie - Colin Firth, Pierce Brosnan, and Stellan Skarsgard – has all returned, reviving the fun and romantic atmosphere from the original movie. The timeless ABBA songs, the story connection between mother and daughter, and the beautiful scenery painted under a bright sun are expected to win the heart of moviegoers in South Korea again.
Min Kim kimmin@donga.com