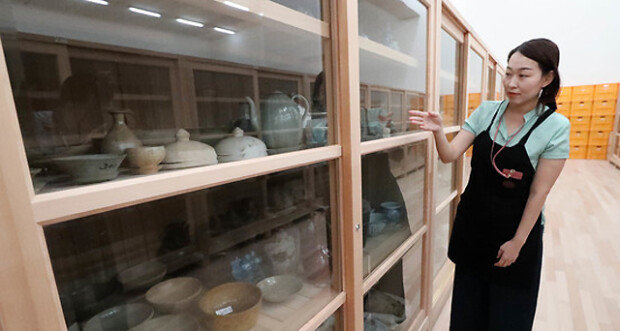 The National Museum of Korea has unveiled Room 3 that stores pottery for the first time Tuesday since its relocation to Yongsan-gu, Seoul in 2005.
The storage is literally a "treasure house" as it has more than 200,000 pieces of artifacts, including national treasures, which are categorized into 21 groups and stored in separate rooms.
There was a 100-meter-long hallway behind a huge iron door that looks like a large safe at the lobby on the first floor of the museum. Two more security doors appeared when I arrived at the entrance of the storage at the end of the hallway wearing galoshes to protect artifacts. "You just passed seven security systems, and there are two more," said Park Jin-woo, a senior manager at the museum.
At Room 3, there are 218 wooden storage closets made of pine trees and paulownia trees. The closets, which were assembled without iron nails, were filled with 72,000 pottery pieces that had each number.
The storage room was cool despite the scorching heat outside since it has been maintained the temperature between 16 to 24 degrees Celsius and 50 percent humidity all year round. Each storage room has different preservation conditions based on the type of artifacts. A room for paper artifacts needs humidity of 60 percent, while a room for metal artifacts needs to keep down the humidity at 40 to 45 percent to prevent rust. For its storage rate at around 80 percent, the museum will build a floor to accommodate four storage rooms from next year.
Won-Mo Yu onemore@donga.com