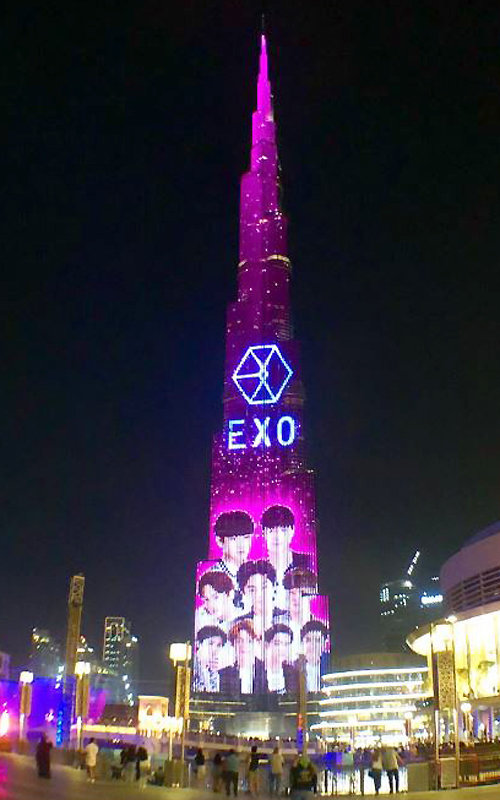 K-pop band EXO took over the world's tallest tower in Dubai, the United Arab Emirates over the weekend. The record-breaking boy band's own light emitting diode (LED) show and fountain show were held on Burj Khalifa in Dubai at 8 p.m. Saturday (local time), according to local newspaper Gulf News.
The 3-minute-long LED show started with the entire outer wall of Burj Khalifa, turning into purple. Beginning with Xiumin, all members of the boy band appeared on the wall of the 828-meter-high building one after another, along with images and phrases such as "we are one" that represent the group.
Hundreds of fans flocked at the foot of the building to watch the show, some singing along with their songs. Ahead of the LED show, the fountain show was held to the music of "Power," one of the group's hit songs. The photos and video clips of EXO's LED show were also posted on Burj Khalifa's social media accounts on Twitter and Instagram.
Local newspapers reported that this was the first time that a celebrity was featured on Burj Khalifa's LED show. It was also the first time that K-pop music was themed for Dubai's fountain show in January when one of EXO's songs was used as background music.
easy@donga.com