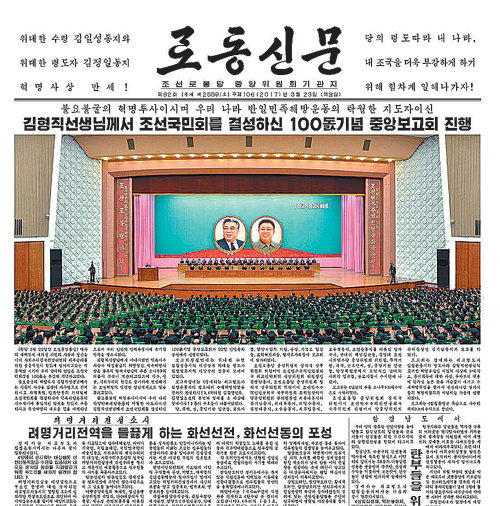 North Korea asserts that patriots and students Kim Hyong Jik (1894-1926), Kim Il Sung's father, taught led the 1919 independent movement of Korea. It says Kim Hyong Jik played a leading role and was at the back of the independent movement.
The North takes a secret organization Chosun Kookminhoe as proof that Kim Hyong Jik led the movement. The organization was established in Pyongyang in March 1917 and lasted for less than a year until it was disbanded by the Imperial Japan in February 1918. North Korea argues that Kim formed this organization and key members led the movement in cities including Pyongyang. It commemorated the 100th anniversary of the organization's foundation at the People's Palace of Culture last year.
Is this the truth? It is clear that the Chosun Kookminhoe is an organization founded by young Koreans in their 20s and 30s graduated from Soongshil High School in Pyongyang. The organization bought weapons using a secret code "pig leg," which meant a pistol and engaged in armed struggles against Japanese imperialism. It also spread the news of independent movement in Korea and overseas by working with Park Yong-man's organization in Hawaii (Kang Young-sim's "Study on Chosun Kookminhoe").
But there is no evidence that Kim Hyong Jik led the organization. Rather, a lot of testimonies point that another person led the organization. Bae Min Soo who was a key member of the organization gathered with other members at the Soongshil high school and founded the Chosun division of the organization. He wrote in his autobiography that his friend Jang Il Hwan was the president, Baek Se Bin was the correspondent and he was the clerk and communication lead. He also says there were 30 members in the organization, who all graduated from Soongshil High School.
An investigation report written by a police affairs head in South Pyongan Province after arresting 25 members of the organization also indicates that Jang was the actual leader. The report mentions organization members in order of importance, and Kim Hyong Jik is the fourth name that comes after Jang, Baek Se Bin and Bae Min Soo.
North Korea says Kim Hyong Jik and Kim Il Sung participated in the movement, but defines the movement as a failure. South Korea sees it as a successful peace movement led by 33 Korean leaders. The two Koreas have completely different views on the same movement.
ojong@donga.com