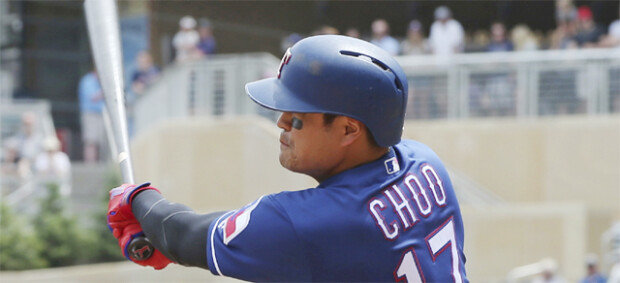 Ahead of the match against Detroit at Comerica Park in Detroit, Michigan on Monday, Texas Rangers' Choo Shin-soo was told from the manager Jeff Banister that he was included in the roster for the 2018 Major League Baseball (MLB) All-Star Game. "It gave me chills. It is special for me, my family and my country to become the first Korean outfielder to be selected as an All-Star," said Choo with a big smile on his face.
Choo was included among the 62 All-Star players announced on the same day by Major League. Choo was behind J.D. Martinez of the Boston Red Sox in Major League All-Star Ballot, but recommendation by Rangers earned him a ticket to the All-Star Games. Choo is the only player in Rangers to be included in the 31 All-Star players in the American League (AL). He has become the third Korean player to appear in the Major League All-Star Game, followed by Los Angeles Dodgers pitcher Park Chan-ho of in 2001 and Arizona Diamondbacks pitcher Kim Byung-hyun in 2002. The 2018 Major League All-Star Game will be held at Nationals Park in Washington D.C. next Wednesday.
Also, Choo set a Rangers' single-season on-base record of 47 games, breaking Julio Franco's 1993 Rangers' record of 46 games. If he reaches base in a 48th straight game, he will tie Joey Votto of Cincinnati Reds and Albert Pujols of the Los Angeles Angels, who have a 48-game on-base streak, the longest active streak in MLB. The longest on-base record in the history of MLB is 84 games by Ted Williams of the Boston Red Sox in 1949.
Choo has a .293 batting average and .399 on-base percentage with 17 homers and 98 hits in 86 games this season.
Bae-Jung Kim wanted@donga.com